World Book And Copyright Day 2022: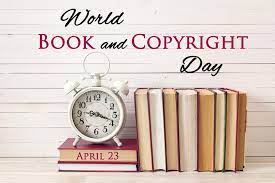 To promote awareness on the benefits of reading books, World Book Day, also known as World Book and Copyright Day 2022 is observed every year on April 23.
The day is celebrated by UNESCO and other related organisations across the world to honour authors, and books, promote the art of reading, etc.
In 2022, the World Book Capital is the Mexican city of Guadalajara.
The World Book Capital of 2021 was Tbilisi, Georgia.
The theme for World Book and Copyright Day 2022 is "Read, so you never feel low".
UNESCO has selected 23rd April as World Book Day to pay tribute to great literary figures including William Shakespeare, Miguel Cervantes, and Inca Garcilaso de la Vega who died on this day.