World Sight Day 2022: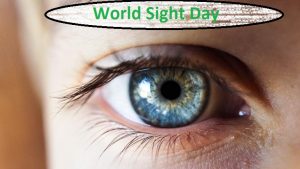 World Sight Day is observed globally on the second Thursday of every October.
Theme for 2022: 'Love your eyes'
This year, World Sight Day is being observed on 13th October to draw attention to the issue of blindness and vision impairment among people.
The day was first observed by the SightFirst campaign of the Lions Club International organisation in the year 2000.
Since then, it has been integrated into the VISION 2020: The Right to Sight (V2020) plan.
The V2020 plan which was launched in 1999 is coordinated by the International Agency for the Prevention of Blindness (IAPB) in cooperation with the World Health Organization (WHO).