World Ocean Day: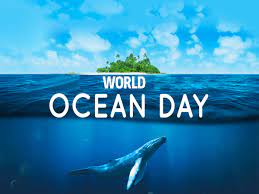 World Ocean Day was observed on June 8, 2022 with the theme for this year is "Revitalization: Collective Action for the Ocean".
The Day is celebrated every year on June 8.
The Day was proposed in 1992 and was officially recognised by the United Nations in 2008.
The purpose of the Day is to raise public awareness on Oceans and its resources and also to inform the public of the impact of human actions on the ocean.
The ocean covers over 70 percent of the planet.
According to the UN, oceans produce about 50 percent of the planet's oxygen and are home to earth's biodiversity.
It is the main source of protein for more than a billion people around the world.
The ocean is key to economy with an estimated 40 million people being employed by ocean-based industries by 2030.