Survey To Count Elephants And Big Cats: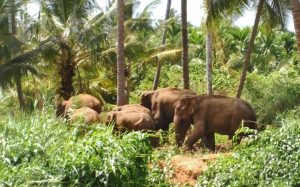 The government of India, for the first time this year, will present a unified count of the tiger, leopard and elephant populations of the country.
Given that 90% of the area occupied by elephants and tigers is common, and once estimation methods are standardised, having a common survey can significantly save costs.
Also, the 'head count' method, or one currently deployed to count elephants was "obsolete" and frequently led to animals being double counted.
Currently, the tiger survey is usually held once in four years and elephants are counted once in five years.
Since 2006, the Wildlife Institute of India (WII), Dehradun, which is affiliated to the Environment Ministry, has a standardised protocol in place that States then use to estimate tiger numbers.
Based on sightings in camera traps and indirect estimation methods, tiger numbers are computed.
Elephant numbers largely rely on States directly counting the number of elephants. In recent years, techniques such as analysing dung samples have also been deployed to estimate birth rates and population trends in elephants.
According to the most recent 2018-19 survey, there were 2,967 tigers in India.
According to the last count in 2017, there were 29,964 elephants in India.