Daily Current Affairs for Government Exams:
Today Current Affairs: 23rd October 2020 for UPSC IAS exams, State PSC exams, SSC CGL, State SSC, RRB, Railways, Banking Exam & IBPS, etc
Contents:
Consumer Price Index for Industrial Worker (CPI-IW) with base year 2016.:
Ministerial Meeting of the G-20 Anti-Corruption Working Group (ACWG):
"General consent":
Government securities :
Global Wealth Report 2020.:
Monoclonal Antibodies:
Other important current affairs:
1. Consumer Price Index for Industrial Worker (CPI-IW) with base year 2016.: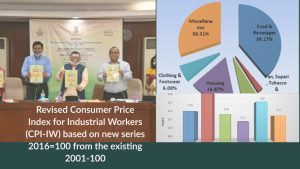 The Ministry of Labour and Employment released the new series of Consumer Price Index for Industrial Worker (CPI-IW) with base year 2016.
The new series of CPI-IW with base 2016 has replaced the existing series with base 2001.
Earlier, the series was also revised from 1944 to 1949; 1949 to 1960; 1960 to 1982 and 1982 to 2001.
The new series with base year 2016 covers the latest consumption pattern of the target population.
It gives more weightage to spending on health, education, recreation and other miscellaneous expenses while reducing the weight of food and beverages.
The weight of spending on housing and clothing increased from 15.2% to 17%.
The weight of miscellaneous items, like education and health, rose to 30.31% from 23.26%.
The weight of food and beverage was reduced from 46.2% to 39% and indicates an increase in disposable income.
The number of markets and the sample size for working-class family income and expenditure surveys were increased.
The sample size was increased from 41,040 families to 48,384, also the number of selected markets for collecting retail price data was increased from 289 to 317.
The number of items in the index basket has increased to 463 items as against 392 items in the 2001 series.
The Labour Bureau is also working towards revising the index every five years.
CPI-IW:
The CPI-IW is mainly used for determining dearness allowance (DA) paid to central/state government employees and workers in the industrial sectors besides measuring inflation in retail prices, fixation and revision of minimum wages in scheduled employments.
CPI-IW is compiled and maintained by the Labour Bureau, an attached office of the Ministry of Labour & Employment.
2.Ministerial Meeting of the G-20 Anti-Corruption Working Group (ACWG):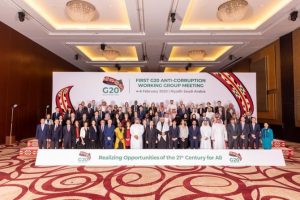 Saudi Arabia hosted the first-ever Ministerial Meeting of the G-20 Anti-Corruption Working Group (ACWG) virtually.
Currently, Saudi Arabia holds the presidency of G-20 and is the first Arab nation to do so.
G-20 Anti-Corruption Working Group:
It was set up in June 2010 at the Toronto Summit of G-20. The year 2020 marks its 10th anniversary.
Objective: To prepare "comprehensive recommendations for consideration by leaders on how the G20 could continue to make practical and valuable contributions to international efforts to combat corruption".
ACWG has led the G-20 anti-corruption efforts coordinating the collective and national actions taken by its members.
It actively works with the World Bank Group, the Organisation for Economic Cooperation and Development (OECD), the United Nations Office on Drugs and Crime (UNODC), the International Monetary Fund (IMF), the Financial Action Task Force (FATF), etc.
The World Bank and the UNODC are also involved in the ACWG through the active participation and contribution of Stolen Asset Recovery Initiative (StAR) to its work, which plays an advisory role on asset recovery, anti-money laundering/counter-terrorism financing, transparency and beneficial ownership, etc.
G-20 on Corruption:
In recent years the G-20 has played a critical role in global and national anti-corruption efforts.
It recognises the negative impact of corruption which, 'threatens the integrity of markets, undermines fair competition, distorts resource allocation, destroys public trust, and undermines the rule of law'.
It is committed to ensuring that member countries lead by example and add value to existing international instruments and commitments.
The G-20 agreed on the Anti-Corruption Action Plan, 2019-2021 in Buenos Aires in 2018. In the framework of this action plan, G-20 members look forward to developing targeted actions where the G-20 can best add value in promoting international efforts in the fight against corruption.
G-20
It is an informal group of 19 countries and the European Union (EU), with representatives of the IMF and the World Bank.
The G20 membership comprises a mix of the world's largest advanced and emerging economies, representing about two-thirds of the world's population, 85% of global gross domestic product (GDP) 80% of global investment and over 75% of global trade.
Headquarter: The G20 operates as a forum and not as an organisation. Therefore, it does not have any permanent secretariat.
Origins: 1997-1999 Asian Financial Crisis: This was a ministerial-level forum which emerged after G7 invited both developed and developing economies. The finance ministers and central bank governors began meeting in 1999.
Amid the 2008 Financial Crisis, the world saw the need for a new consensus-building at the highest political level and it was decided that the G20 leaders would begin meeting once annually.
Members: The members of the G20 are Argentina, Australia, Brazil, Canada, China, France, Germany, India, Indonesia, Italy, Japan, Republic of Korea, Mexico, Russia, Saudi Arabia, South Africa, Turkey, the UK, the USA, and the EU.
One nation holds the chair every year, known as the 'G20 Presidency'.
3."General consent":
The Maharashtra government has withdrawn "general consent" given to the Central Bureau of Investigation (CBI) to probe cases in the state.
The CBI is governed by the Delhi Special Police Establishment Act that makes consent of a state government mandatory for conducting an investigation in that state.
There are two kinds of consent:

Case-specific and general– Given that the CBI has jurisdiction only over central government departments and employees, it can investigate a case involving state government employees or a violent crime in a given state only after that state government gives its consent.
"General consent" is normally given to help the CBI seamlessly conduct its investigation into cases of corruption against central government employees in the concerned state.

It simply means that CBI officers will lose all powers of a police officer as soon as they enter the state unless the state government has allowed them.
The decision means the CBI will now have to get consent from the state government for every case it registers in Maharashtra.
In exercise of the power conferred by Section 6 of the Delhi Special Police Establishment Act, 1946, the state governments can withdraw the general consent accorded.
4.Government securities :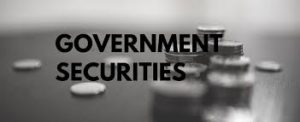 The Reserve Bank of India (RBI) has announced that it had decided to purchase Government securities for an aggregate amount of ₹20,000 crore under Open Market Operations (OMO).
A government security (G-Sec) is a tradeable instrument issued by the central government or state governments.
Key features:
It acknowledges the government's debt obligations.
Such securities can be both short term (treasury bills — with original maturities of less than one year) or long term (government bonds or dated securities — with original maturity of one year or more).
The central government issues both: treasury bills and bonds or dated securities.
State governments issue only bonds or dated securities, which are called the state development loans.
Since they are issued by the government, they carry no risk of default, and hence, are called risk-free gilt-edged instruments.
FPIs are allowed to participate in the G-Secs market within the quantitative limits prescribed from time to time.
G- Sec prices fluctuate sharply in the secondary markets. Factors affecting their prices:
Demand and supply of the securities.
Changes in interest rates in the economy and other macro-economic factors, such as, liquidity and inflation.
Developments in other markets like money, foreign exchange, credit and capital markets.
Developments in international bond markets, specifically the US Treasuries.
Policy actions by RBI like change in repo rates, cash-reserve ratio and open-market operations.
5.Global Wealth Report 2020.: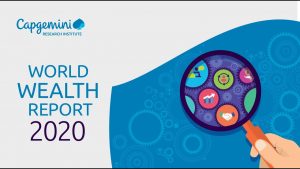 Credit Suisse has released the Global Wealth Report 2020.
Credit Suisse is a financial services company based in Switzerland.
The Credit Suisse Global Wealth Report provides the most comprehensive and up-to-date coverage of information on household wealth worldwide.
Global Scenario:
In 2019, total global wealth rose by USD 36.3 trillion and wealth per adult reached USD 77,309, which is 8.5% more when compared to 2018.
As a consequence, the world has been better placed to absorb any losses from Covid-19 during 2020.
However, total household wealth dropped by USD 17.5 trillion between January and March 2020, a 4.4% decrease compared to the value at the end of 2019.
The Asia Pacific is the highest contributor of household wealth.
Female workers have suffered disproportionately, partly because of their high representation in businesses and industries such as restaurants, hotels, personal service and retail that have been badly affected by the pandemic.
Indian Scenario:
Household wealth in India is dominated by property and other real assets, although financial assets have grown over time, now forming 22% of gross assets.
Stocks, bonds, bank deposits are some examples of financial assets.
The average wealth of Indian adults rose marginally to USD 17,420 at end-June 2020, as against USD 17,300 as of December 2019, showing some growth despite the Covid pandemic and lockdowns.
Wealth inequality remains quite high in India.
There is considerable poverty reflected in the fact that 73% of the adult population had wealth below USD 10,000 at the end of 2019.
At the other extreme, a small fraction of the population (2.3% of adults) had a net worth over USD 1,00,000.
With 4,593 ultra-high-net-worth individuals in the country as of end-2019, India came in fourth after the USA, China and Germany.
Between January and April 2020, unemployment rates approximately tripled in India to 24%.
6.Monoclonal Antibodies: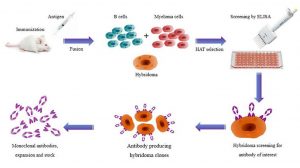 The International AIDS Vaccine Initiative (IAVI) and Serum Institute of India (SII), Pune announced an agreement with Merck, a science and technology company, to develop SARS-CoV-2 neutralising monoclonal antibodies (mAbs), which will be used to address the Covid-19 pandemic.
IAVI is a non-profit scientific research organisation dedicated to addressing urgent global health challenges. It is headquartered in New York, USA.
SII is the world's largest vaccine manufacturer.
Monoclonal Antibodies:
Antibodies are proteins produced naturally by the immune system that target a specific foreign object (antigen).
They are called monoclonal Antibodies (mAbs) when they are produced by clones derived from a single parent cell.
They are man-made proteins that act like a human antibody in the immune system. They are made by cloning a unique white blood cell.
mAbs have monovalent affinity, it binds only to the same epitope i.e. the part of an antigen that is recognized by the antibody.
They are designed to perform many roles, like they can be used to carry drugs, toxins, or radioactive substances directly to affected cells.
mAbs are used to treat many diseases, including some types of cancer.
mAbs and Covid-19:
Neutralising monoclonal antibodies (mAbs) against SARS-CoV-2 were co-invented by IAVI and Scripps Research.
They are widely considered to be promising candidates for Covid-19 treatment and prevention.
Encouraging results for Covid-19 antibody treatment have emerged from preclinical research and from initial clinical trials.
mAbs also have the potential to play an important complementary role to Covid-19 vaccines.
It can be used both for treatment and potentially for prevention, especially for those individuals who, due to age or medical conditions, may not benefit from vaccination.
Other important current affairs:
1.Sri Lankan Parliament passes 20th Amendment::
20th Amendment to Sri Lanka's Constitution was recently passed.
Highlights of the 20th Amendment:

It envisages expansive powers and greater immunity for the Executive President.
The Amendment rolls back Sri Lanka's 19th Amendment, a 2015 legislation that sought to clip presidential powers while strengthening Parliament. The new legislation in turn reduces the Prime Minister's role to a ceremonial one.
2.The final user trial of 3rd generation Anti Tank Guided Missile (ATGM) NAG was carried out successfully from Pokhran range in Thar desert (Rajasthan).
Developed By: Defence Research and Development Organisation (DRDO)
Features:

The NAG missile has been developed to strike and neutralise highly-fortified enemy tanks. It also has night strike capabilities.
ATGMs are missile systems that can strike and neutralise armoured vehicles such as tanks.
It has a minimum range of 500 metres and maximum range of 4 km.
As a third-generation 'fire and forget' category system, NAG uses an imaging infra-red seeker to lock on to the target before launch.
In the top attack mode, the missile is required to climb sharply after launch and travel at a certain altitude, then plunge on top of the target. In the direct attack mode, the missile travels at a lower altitude, directly striking the target.
It has a capability to defeat Main Battle Tanks (MBT) equipped with composite and reactive armour.
The NAG missile carrier (NAMICA) is a Russian-origin BMP-II based system with amphibious capability.
BMP-II is a mechanized infantry fighting vehicle.

Version of NAG ATGM: DRDO is currently in the final stages of the development of the helicopter-launched version of Nag ATGM, called the Helina, which has undergone successful tests in 2018.
3.INS Kavaratti has been formally inducted into the Indian Navy at the Naval Dockyard in Eastern Naval Command (ENC), Visakhapatnam.
It is named after the capital of the Lakshadweep group of islands.
It is the last of the four indigenously built Anti-Submarine Warfare (ASW) stealth corvettes built under Project 28 (Kamorta class), by Garden Reach Shipbuilders and Engineers (GRSE), Kolkata.
The ship is regarded as one of the most potent ASW stealth corvettes to have been constructed in India as it joins three other ships of the same class INS Kamorta, INS Kadmatt and INS Kiltan, at the ENC.
Its induction is a game-changer in the eastern seaboard, especially with the Chinese submarines trying to increase their presence in the Indian Ocean.
It has enhanced stealth features resulting in reduced Radar Cross Section (RCS) achieved by the superstructure along with optimally sloped surfaces.
INS Kavaratti and INS Kiltan are the first two major warships in the country to have the unique feature of the superstructure made of carbon fibre composite material.
It has high indigenous content with the state-of-the-art equipment and systems to fight in Nuclear, Biological and Chemical (NBC) warfare conditions.
Some of the major equipment/ systems developed indigenously include Combat Management System, Torpedo Tube Launchers and Infra-Red Signature Suppression System, etc.
The high level of indigenisation incorporated in the production accentuates the objectives of Atmanirbhar Bharat Initiative.
The ship is the reincarnation of the erstwhile Arnala Class missile corvette of the same name, INS Kavaratti-P 80, a ship that played an important role in the liberation of Bangladesh in 1971.
4.The Supreme Court has recently held that: The sole and trustworthy evidence of a woman, who is a victim of a sexual offence, is enough to find her assailant guilty.
The court was confirming the punishment awarded to a man found guilty under the Protection of Children from Sexual Offences Act of sexually assaulting a 13-year-old child in Tamil Nadu.
A woman, who is the victim of sexual assault, is not an accomplice to the crime but is a victim of another person's lust and, therefore, her evidence need not be tested with the same amount of suspicion as that of an accomplice.
5.DRDO recently carried out the final user trial of the third generation anti-tank guided missile (ATGM), Nag, at the Pokhran firing range.
Developed indigenously by the Defence Research and Development Organisation (DRDO), the Nag ATGM can be launched from both- land as well as air-based platforms.
With a range of 4-7 km, the missile is fitted with home-developed infrared seeker and avionics, the capabilities possessed by only a few nations in the world.
6.Tubarial salivary glands:
Until now, there were three known large salivary glands in humans: one under the tongue, one under the jaw and one at the back of the jaw, behind the cheek.
They are a set of salivary glands deep in the upper part of the throat.
They were discovered recently by scientists in the Netherlands.
The glands are about 1.5 inches (3.9 centimetres) in length on average and are located over a piece of cartilage called the torus tubarius.
The glands probably lubricate and moisten the upper throat behind the nose and mouth.
The discovery may be important for cancer treatment.
7.The National Human Rights Commission (NHRC) recognised sex workers as informal workers in their advisory issued on October 7 on "Human Rights of Women in the context of COVID 19".
The NHRC in an effort to secure the rights of all women who have been excluded and marginalised during the Covid-19 pandemic, included sex workers as informal workers in their advisory on 'Women at Work'.
The advisory asked the Ministries of Women, Labour, Social Justice, Health, and Consumer Affairs in all states and UTs to recognise sex workers as informal workers and register them so they are able to avail the benefits of a worker.
8.Union Minister for Culture and Tourism virtually launched "Life in Miniature" project, a collaboration between the National Museum, New Delhi, Ministry of Culture, and Google Arts & Culture.
Several hundred miniature paintings from the National Museum, New Delhi can be viewed online on Google Arts & Culture by people around the world in a new project titled "Life in Miniature."
The project uses technologies like machine learning, augmented reality and digitization with high-definition robotic cameras, to showcase these special works of art in a magical new way.
On the Google Arts & Culture app, online viewers can experience the first Augmented Reality-powered art gallery designed with traditional Indian architecture, and explore a life-size virtual space where you can walk up to a selection of miniature paintings.