Z-Morh Tunnel: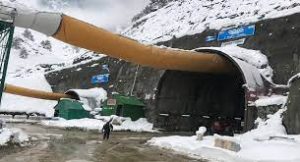 Union Minister for Road Transport and Highways said that the crucial Z-Morh tunnel will be inaugurated soon.
Z-Morh Tunnel is an under-construction 2-lane road tunnel between Gagangir and Sonamarg on the Srinagar-Leh Highway in Jammu and Kashmir.
It is named for the Z-shaped stretch of road between Sonamarg and Gagangir that the tunnel will replace.
Length: 6.5 km
The tunnel is designed for the flow of 1,000 vehicles an hour at an approved maximum speed of 80 km per hour
At 8,960 feet, tourist destination Sonmarg is covered in snow during the winter season, forcing locals to shift to Srinagar.
Z-Morh tunnel will ensure that Sonmarg town in Jammu & Kashmir remains connected as well as supplies are maintained all year round.
It will ensure all-weather connectivity between Srinagar in Jammu and Kashmir and Kargil in Ladakh.
Along with the 14.15 km Zojila Tunnel to its east, it aims to enhance the Indian military's capabilities in Kashmir and Ladakh along both the Line of Control (LOC) to the north and the Line of Actual Control (LAC) further east.