Zhurong: China's first Mars rover: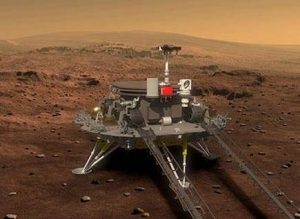 China's first Mars rover will be named Zhurong after a traditional fire god.
The rover is aboard the Tianwen-1 probe that arrived in Mars orbit on February 24 and is due to land in May to look for evidence of life.
China in 2019 became the first country to land a space probe on the little-explored far side of the moon and in December returned lunar rocks to Earth for the first time since the 1970s.
China would become the third country after the former Soviet Union and the United States to put a robot rover on Mars.
About Tianwen-1:
China's first Mars probe is called Tianwen-1 (formerly Huoxing 1).
The spacecraft consists of an orbiter, a lander, and a rover.
Launched in 2020 on a Long March 5 rocket from Xichang, China.
Landing site: Somewhere in Utopia Planitia, a vast plain in Mars' northern latitudes and the same place NASA's Viking 2 mission landed in the 1970s.