Daily Current Affairs for Government Exams:
Today Current Affairs: 15th February 2020 for UPSC IAS exams, State PSC exams, SSC CGL, State SSC, RRB, Railways, Banking Exam & IBPS, etc
Contents:
Discovery Program investigations.
System risk indicator.
IISS Study: World Defence spending the biggest in 10 years:
Group on Defence and Internal Security.
The Munich Security Conference.
Southern Ocean 2020.
BIMSTEC Disaster Management Exercise -2020
Other important current affairs:
1. Discovery Program investigations :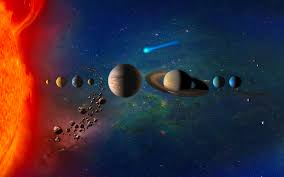 NASA announced it has selected four Discovery Program investigations to develop concept studies for possible new missions.
Two proposals are for trips to Venus, and one each is for Jupiter's moon Io and Neptune's moon Triton.
After the concept studies are completed in nine months, some missions ultimately may not be chosen to move forward. Final selections will be made next year.
These are:

DAVINCI+: Deep Atmosphere Venus Investigation of Noble gases, Chemistry, and Imaging Plus. This will analyze Venus's atmosphere to understand how it was formed and evolved, and if it ever had an ocean.
IVO: Io Volcano Observer is a proposal to explore Jupiter's moon Io, which is extremely volcanically active.
TRIDENT: This aims to explore Neptune's icy moon, Triton.
VERITAS: Venus Emissivity, Radio Science, InSAR, Topography, and Spectroscopy will aim to map Venus' surface to find out why Venus developed so differently from Earth.
2. System risk indicator:
Recently, a Dutch district court ruled against an identification mechanism called SyRI (System Risk Indicator), because of data privacy and human rights concerns.
The Dutch Ministry of Social Affairs developed SyRI in 2014 to weed out those who are most likely to commit fraud and receive government benefits.
Legislation passed by Dutch Parliament allowed government agencies to share 17 categories of data about welfare recipients such as taxes, land registries, employment records, and vehicle registrations with a private company, called "The Intelligence Agency".
Recent ruling: The Dutch district court held SyRI was too invasive and violative of the privacy guarantees given by European Human Rights Law as well as the EU's General Data Protection Regulation.
The ruling is also an example of how a data protection regulation can be used against government surveillance.
This has a context for similar artificial intelligence systems worldwide, especially at a time when identity, citizenship, and privacy are pertinent questions in India.
3. IISS Study: World Defence spending the biggest in 10 years: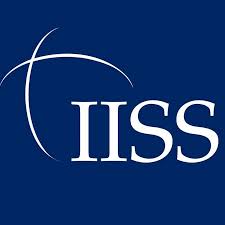 The International Institute of Strategic Studies released its report on Defence Spending all over the world. The report was titled "Military Balance".
According to the report, global spending rose by 4% in 2019. This is the largest growth in 10 years.
The report also says that the Defence race between China and the US has increased alarmingly.
The Military Modernization Programme in China has led to developing new hard to detect Hypersonic missiles.
This has kindled the US to spend alarmingly towards its Defence Programmes. In 2018-19 the United States has spent 53.4 billion USD towards its Defence Programmes.
Out of all the countries, China and the US have increased the spending by 6.6%.
Europe spending has increased by 4.2%. This is the first time Europe has seen increased levels of spending since the financial crisis in 2008.
NATO members: US is constantly complaining that the NATO members are not contributing enough towards Defence spending. US had earlier accused Germany of not living up to the 2014 NATO pledge.
According to the NATO pledge, the member nation should contribute 2% of its GDP to Defence.
4. Group on Defence and Internal Security.: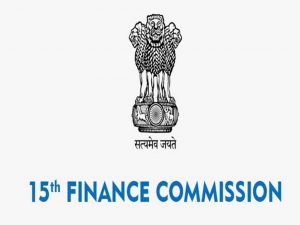 The Fifteenth Finance Commission has constituted a Group on Defence and Internal Security.
The mandate of the Group will be 'to examine whether a separate mechanism for funding of defence and internal security ought to be set up, and if so, how such a mechanism could be operationalised.'
This group will be chaired by N.K. Singh (Chairman, Fifteenth Finance Commission) with A.N. Jha, Member, Fifteenth Finance Commission as well as Secretary, Ministry of Home Affairs, Secretary, Ministry of Defence and Secretary (Expenditure), Ministry of Finance as members.
5. The Munich Security Conference: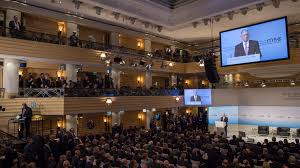 The Munich Security Conference is being held in Germany between February 14, 2020, and February 16, 2020.
The Conference was attended by External Affairs minister Jaishankar representing India.
The Minister met his counterparts of Georgia, Portugal and Lithuania on the sidelines of the conference.
The minister his Portugal Counterpart as a backdrop of its President visiting India.
With Portugal to preside over the leadership of the European Union council, there are good opportunities for India to extend its relations with the European Union.
Munich Security Conference:
The Conference is one of the world's leading forum that debates on international security policy.
Every year more than 350 officials from 70 countries attend the conference.
It includes heads of the states, members of parliaments, representatives of armed forces, business, media. etc. It was founded in 1963.
The other events conducted on the sidelines of the summit include Cyber Security Summit and Energy Security Summit.
The Cyber Security Summit was first launched in 2012. The Energy security summit was first started in 2013.
6. Southern Ocean 2020.: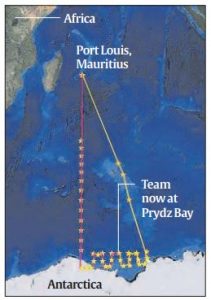 In January 2020, the South African oceanographic research vessel SA Agulhas set off from Port Louise in Mauritius, on a two-month Indian Scientific Expedition to the Southern Ocean 2020.
This week, the vessel was at Prydz Bay, in the coastal waters of "Bharati", India's third station in Antarctica.
This is the 11th expedition of an Indian mission to the Southern Ocean, or Antarctic Ocean.
This Indian expedition has been launched by the National Centre for Polar and Ocean Research (NCOPR) in Goa, which works under the Ministry of Earth Sciences.
Objective: Study hydrodynamics and biogeochemistry of the Indian Ocean sector of the Southern Ocean to understand the formation of Antarctic bottom water.
Study of organisms called coccolithophores that have existed in the oceans for several million years.
7. BIMSTEC Disaster Management Exercise -2020: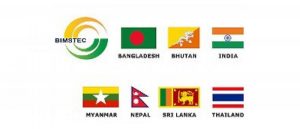 The 2nd Bay of Bengal Initiative for Multi-Sectoral Technical and Economic Cooperation (BIMSTEC) Disaster Management Exercise was conducted (11-13 February 2020) in Bhubaneswar, Odisha.
The focus of the 2nd edition of Exercise is on heritage structures' protection.
The first edition of the BIMSTEC DMEx was also hosted by India in 2017 with the focus on testing the region's preparedness and resilience towards effective activation of inter-Governmental interaction/dialogue/agreements for immediate deployment of regional resources for disaster response.
Key Points:
The exercise seeks to provide a platform for member states to evaluate existing capabilities, share best emergency response practices, improve emergency preparedness and strengthen regional response mechanisms, to conduct risk assessment in the context of cultural heritage sites at the time of disasters and to test the multi-stakeholders' coordination in a disaster scenario involving international, national, state, district and local agencies.
Participants in the exercise include BIMSTEC members except for Bhutan and Thailand along with other global institutions like United Nations Development Programme (UNDP), International Search and Rescue Advisory Group (INSARAG), International Centre for the Study of the Preservation and Restoration Cultural Property (ICCROM) etc.
The National Disaster Response Force (NDRF) is building the capacity of its forces to play the role of the first responder at heritage sites, which are vulnerable to disasters such as earthquake, floods, cyclones and tsunami across India.
Reasons for Focus on the Heritage Sites: In the backdrop of recent losses suffered in an earthquake in Nepal(2015), damages to Heritage Sites in Gujarat earthquake (2001), the need was felt to protect the Heritage Sites during disasters and build the capacity of NDRF personnel.
According to Indian National Trust for Art and Cultural Heritage (INTACH) in India, there could be 11 lakh sites in towns and villages out of which close to 10,000 sites and buildings are protected and about 70,000 sites have heritage value.
Other important current affairs:
1. The first inter-city electric bus was launched. The bus will transit between Mumbai and Pune twice every day. It was launched by the Union Transport Minister Nithin Gadkari.
The bus seating capacity was 43. It is capable of running 300-kilo metres in a single charge.
The goal is to extend the service to other parts of Maharashtra as well.
The Ministry of Union Transport is working under the target of converting all the buses into electric vehicles by 2022.
The bus is to run in the PPP (Public-Private Partnership) model.
Electric Vehicle Transition: The GoI is now pushing for the Electric Vehicle transition in the country to reduce the burden being created by oil.
The CNG (Compressed Natural Gas) transition that happened in the 2000s is the best lead to take positive hopes over EV transition
2. Hubei province has been the epicentre of the outbreak of COVID-2019 (the disease caused by the novel coronavirus).
Hubei is a landlocked province in Central China.
Its capital is Wuhan.
The name of the province means "north of the lake", referring to its position north of Dongting Lake.
The two major rivers of Hubei are the Yangtze River and its left tributary, the Han River.
The high-profile Three Gorges Dam is located in the province.
The Yangtze River enters Hubei from the west via the Three Gorges Dam.
3. Anniversary of Pulwama Attack: Memorial inaugurated:
A memorial was inaugurated at the Lethpora camp for the 40 CRPF (Central Reserve Police Force) personnel who were killed in Pulwama Attack.
The memorial consisted of names of jawans who lost their lives in the attack.
It also held the motto of CRPF, which is "Seva and Nishta" which means Service and Loyalty.
In 2019, February 14, the Jaish-e-Mohammed terrorist Adeel Ahmed Dar drove a car carrying explosives to a convoy of security forces. This killed 40 personnel.
4. The Portugal President Marcelo Rebelo de Sousa is on a four-day visit to India.
On February 14, 2020, he along with the Minister of Tourism, India Prahlad Singh Patel inaugurated a Cha-Chai art-work installation at the National Museum.
Cha-Chai Art Work: The 5 pm tea is a family tradition of the Portuguese.
According to their family culture, it strengthens family bonding.
The Cha-Chai artwork inaugurated was a teapot artwork.
It symbolically depicts people to people relations between the countries.
The Cha-Chai artwork inaugurated was made of iron railings.
It depicted the bridge between rural and urban landscape.
The aroma of tea in the artwork depicted the journey from physical to the surreal world.
The President is to visit Goa for two days to sign water management and sewerage management agreements.
5. Amazon has been witnessing a crowd of online shoppers for ethnic products ever since 'Gadhika' products were launched on the e-commerce platform by the Scheduled Castes and Scheduled Tribe Development Department of Kerala in December last year.
Gadhika products are natural forest produce and eco-friendly handicraft made from bamboo, coconut and coconut shell, and ornaments, food products, clothes, Wayanad turmeric, honey, pickles, puttu kutti, etc.
They have been hand-crafted by artisans and others belonging to various tribes and the Scheduled Castes of Kerala.
The acceptance for the tribal products was also visible at the tribal festival Gadhika held in Kannur The exhibition could attract over 50,000 people and there was a record sale of over ₹45 lakh.
6. The World Meteorological Organization announced that for the first time in record Antarctica has recorded its hottest temperature ever, 20.75 Degree Celsius.
So far, the highest was 18.3 Degrees Celsius that was recorded in January 1982.
The higher temperatures were influenced by shifts in El Nino and Ocean Currents. According to United Nations scientists, the Antarctic region stores more than 70% of the world's freshwater.
If it melts, the sea level will increase by 50 to 60 metres.
7. Renowned fashion designer Wendell Rodricks (59) died at his residence in Colvale village in Goa
Wendell Rodricks: A Padma Shri awardee, Rodricks was also an author, environmentalist and gay rights activist.
He was in the process of setting up a museum, Moda Goa Museum and Research Centre, which Rodricks had dedicated to clothes and fashion in Goa through the ages.
As a designer, he has been credited with reviving the Kunbi saree, worm by the indigenous Kunbi tribal women of Goa.
8. Mega industrial exhibition 'Engiexpo 2020' in Vadodara
In a bid to promote 'Made in India' products, the Federation of Small Scale Industries (FSSI) is organising mega industrial exhibition 'Engiexpo 2020' in Vadodara, Gujarat.
Over 10,000 industrial products will be showcased in more than 300 stalls at the sixth edition of the exhibition.
The exhibition is showcasing various products, including weighing, welding and cutting tools, products related to construction work.
9. Gulmarg will host five-day National Winter Games from March 7
World-famous Ski destination Gulmarg is all set to host a five-day national winter games event from 7th March under the banner of Khelo India.
Khelo India is an initiative of the Government of India to strengthen the sports ecosystem by encouraging mass participation and promotion of excellence.
There will be 30 events under five major activities- snowboarding, snow skiing, cross country.
10. The Economist Intelligence Unit has revised downwards its global growth forecast for 2020 to 2.2%. (earlier, 2.3%)
It has lowered the forecast due to the new risks that have emerged following the novel coronavirus outbreak in China.
The Economist Intelligence Unit's baseline scenario is that the public health emergency in China will be brought under control by end-March.
11. Abhinav Kashyap releases a novel 'The Crossfire of Love'
Filmmaker and screenwriter Abhinav Kashyap recently unveiled the novel 'The Crossfire of Love'.
It is a racing psychological romantic thriller by US-based author Dhiren Tiwari.
Within days of the release, the novel has topped the WH Smith Bestseller charts and has garnered high praise from both critics in print and television.
12. Debasish Panda appointed finance secretary
Senior IAS officer Debasish Panda (1987-batch – Uttar Pradesh cadre) has been appointed as the new finance secretary.
Currently, Mr Panda is a special secretary, department of financial services.
The Appointments Committee of the Cabinet has approved his appointment as secretary, department of financial services, in place of Rajiv Kumar, who superannuates this month-end
Need Monthly Current Affairs PDF?
Get everything on your phone with our all in one app for your UPSC Preparation.
Get daily current affairs on you phone
Download monthly current affairs PDF
All India daily mock tests with ranking