Gaganyaan UPSC Notes and Latest News: PIB
Gaganyaan is India's first Human Space Flight Programme to be launched by the Indian Space Research Organisation (ISRO) by 2022. The program will make India the fourth nation in the world to launch a Human Spaceflight Mission. So far, only the USA, Russia and China have launched human spaceflight missions.
Contents:
About the mission.
GSLV Mk III
Indian human space flight program.
Timeline of Gaganyaan Mission
Objective
The relevance of the man space mission of India.
Technologies for the human space flight program
Challenges.
Way forward.
Vyom Mitra
About the mission:
Gaganyaan is an Indian crewed orbital spacecraft that is intended to send 3 astronauts to space for a minimum of seven days by 2022, as part of the Indian Human Spaceflight Programme.
The spacecraft, which is being developed by the Indian Space Research Organisation (Isro), consists of a service module and a crew module, collectively known as the Orbital Module.
It will be for the first time that India will launch its manned mission to space, making the country fourth in line to have sent a human to space.
ISRO official website – https://www.isro.gov.in
Isro's Geosynchronous Satellite Launch Vehicle GSLV Mk III:

The three-stage heavy-lift launch vehicle will be used to launch Gaganyaan as it has the necessary payload capability.
GSLV Mk III is designed to carry a 4 ton class of satellites into Geosynchronous Transfer Orbit (GTO) or about 10 tons to Low Earth Orbit (LEO).
The powerful cryogenic stage of GSLV Mk III enables it to place heavy payloads into LEO's of 600 km altitude.
The launcher uses two S200 solid rocket boosters to provide the huge amount of thrust required for lift off.
Indian human space flight program: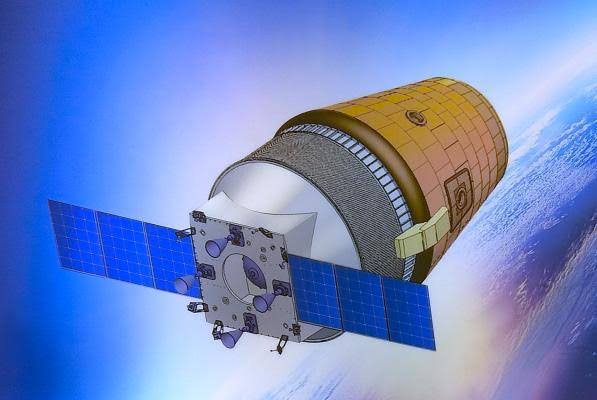 Human spaceflight (also referred to as manned spaceflight) is space travel with a crew or passengers aboard the spacecraft.
Spacecraft carrying people may be operated directly, by the human crew, or it may be either remotely operated from ground stations on Earth or be autonomous, able to carry out a specific mission with no human involvement.
Timeline of Gaganyaan Mission:
2004: The ISRO Policy Planning Committee made a recommendation for a manned space mission
2006: Preliminary studies of Gaganyaan started under the generic name Orbital Vehicle.
2008: An initial design of a fully autonomous vehicle to carry two astronauts was finalized.
2009: A committee was formed to analyze the feasibility of the program and funding was sanctioned.
2014: Successful testing of experimental flight of GSLV MK-III was carried out.
2017: First flight of GSLV MK-III was carried out. GSLV MK-III placed the country's heaviest satellite to date, GSAT-19, into a precise orbit. With it, India became a nation having its own indigenous cryogenic engine technology.
July 5, 2018: The first successful flight of the crew escape system was carried out. The crew escape system is an emergency measure designed to quickly pull the crew module along with the astronauts to a safe distance from the launch vehicle in the event of a launch abort.
August 15, 2018: Prime Minister promised manned mission before 2022.
The objective of the mission:
Enhancement of science and technology levels in the country
Improvement of industrial growth
Inspiring youth
Development of technology for social benefits
Improving international collaboration
The relevance of the mission:
Boost to industries: The Indian industry will find large opportunities through participation in the highly demanding Space missions. Gaganyaan Mission expected will source nearly 60% of its equipment from the Indian private sector.
Employment: According to the ISRO chief, the Gaganyaan mission would create 15,000 new employment opportunities, 13,000 of them in private industry and the space organization would need additional manpower of 900.
Technological development: Human Space flights are the frontier field in science and technology. The challenges the Human Space Flights provide to India, and the benefits accruing from taking up those missions will be very high and will lead to further thrust for technological developments in India
Boost to research: It will boost good research and technology development.
Motivation: Human space flight will provide that inspiration to the youth and also the national public mainstream. It would inspire the young generation into notable achievements and enable them to play their legitimate role in challenging future activities
Prestige: India will be the fourth country to launch a human space mission. The Gaganyaan will not only bring about prestige to the nation but also establish India's role as a key player in the space industry.
Technologies for Human Space Flight (HSF):
According to ISRO, most of the indigenously developed technologies required for the mission has already been tested. These include crew module re-entry, crew escape mechanism in case of a glitch during launch, a deep space network and the astronaut's spacesuit.
Orbital Module: Divided into a crew module to house the astronauts and a service module that maintains the speed and orientation of the spacecraft using rocket motors apart from the power supply generated from solar sails.
Crew Escape System: In case of a malfunction at launch, crew capsule will be ejected to a safe distance
Integration facility: for integrating orbit module with the launcher and modifying Launchpad for human interface
Crew Module: Has to be tested for maintaining temperature and pressure comfortable for humans
Deep Space Network: Need to track the module 24*7 as it orbits the earth Re-entry and Recovery system: System to withstand high temperatures (due to friction with the air) when the spacecraft re-enters earth's atmosphere.
Mission Control: Monitors and communicates with the orbiter and astronauts throughout the mission
Rocket Launcher: The GSLV Mark III has been modified to improve reliability and accommodate orbital module
GSLV Mk III: GSLV Mk III is a three-stage heavy-lift launch vehicle developed by ISRO.
Challenges:
India does not even have the facilities to train astronauts.
While the launch vehicle, crew module, re-entry technology, crew escape system are in place, monitoring and tracking systems, Environmental Control & Life Support System (ELCSS), spacesuit and crew support systems are still in the developmental phase.
Way Forward
In terms of space technology, a manned space program is the obvious next step for India.
India cannot afford not to develop the technological capacity for manned space flight because that will represent a major drawback in Indian space capabilities.
Even if the direct benefits of such advancement may not be as great in the short-term, this is a necessary longer-term investment.
"Vyom Mitra"-ISRO's half Humanoid-An experimental mission of Gaganyaan: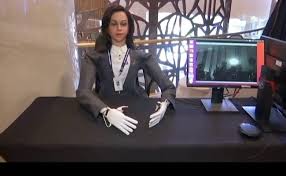 ISRO (Indian Space Research Organization) is to send a half-humanoid robot called the "Vyom Mitra" as an experimental mission to Gaganyaan.
Vyom Mitraas an experimental mission to Gaganyaan. Vyom Mitra means a friend in Sky.ISRO introduced Vyom Mitra at the "Human Space Flight and Exploration-Present Challenges and Future Trends" seminar that was held in Bengaluru.
The robot is to fly in two unmanned missions that are planned in December 2020 and in June 2021.