Armed Forces Products: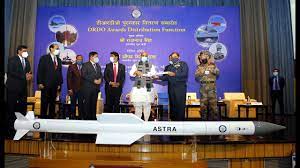 Raksha Mantri Rajnath Singh handed over to the Armed Forces three products/systems indigenously developed by DRDO.
These are:
ARINC818 Video Processing and Switching Module: The module, developed for the Indian Air Force is a state-of-the-art module with high bandwidth, low latency, channel bonding, easy networking and will cater to 5th generation aircraft development programmes.
Sonar Performance Modelling System: Developed for the Indian Navy, it is useful for Indian Naval ships, submarines and under water surveillance stations etc.
Bund Blasting Device Mk-II: The device, developed for Indian Army, is used to reduce the height of Ditch-cum-Bund obstacles to enhance the mobility of mechanised infantry during wartime.