Today Current Affairs: 24th March 2021 for UPSC IAS exams, State PSC exams, SSC CGL, State SSC, RRB, Railways, Banking Exam & IBPS, etc
UN Human Rights Council: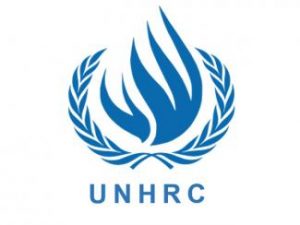 India has abstained from a crucial vote on Sri Lanka's rights record at the United Nations Human Rights Council in Geneva.
The resolution on 'Promoting reconciliation, accountability and human rights in Sri Lanka' was, however, adopted after 22 states of the 47-member Council voted in its favor.
About the Resolution:
It gives UN human rights chief Michelle Bachelet the mandate to collect and preserve evidence of crimes related to Sri Lanka's civil war that ended in 2009 with the defeat of Tamil Tiger rebels.
The resolution also contended the human rights situation has deteriorated under the Rajapaksa administration and that rights defenders and ethnic and religious minorities are facing problems.
About UNHRC:
UNHRC was reconstituted from its predecessor organization, the UN Commission on Human Rights to help overcome the "credibility deficit" of the previous organization.
Headquartered in Geneva, Switzerland.
The UNHRC has 47 members serving at any time with elections held to fill up seats every year, based on allocations to regions across the world to ensure geographical representation.
Each elected member serves for a term of three years.
Countries are disallowed from occupying a seat for more than two consecutive terms.
Functions: The UNHRC passes non-binding resolutions on human rights issues through a periodic review of all 193 UN member states called the Universal Periodic Review (UPR).
It oversees expert investigation of violations in specific countries (Special Procedures).
Oxfam Commitment To Reducing Inequality (CRI) Index 2020: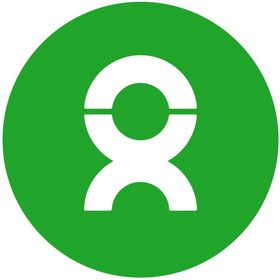 The Labour and Employment Minister has informed the Lok Sabha that Oxfam Commitment to Reducing Inequality (CRI) Index 2020 lacked clarity and did not take into account provisions of the four new labour codes.
The Index ranked countries measuring their policies and actions in three areas that it said are proven to be directly related to reducing inequality:

Public services (health, education and social protection)
Taxation
Workers' rights

Nigeria, Bahrain and India, which experienced the world's fastest-growing outbreak of Covid-19, were among the world's worst-performing countries in tackling inequality going into the pandemic.
India's Position on the Index:
Overall, India ranked 129 in the CRI index out of 158 countries on government policies, and actions in areas of public services of education, health, social protection, taxation, and workers' rights.
India slipped from rank 141 in the year 2018 to 151 in the year 2020 with weak labour rights and high incidence of vulnerable employment.
The highest presence of the informal sector for men was in Uttar Pradesh at 86.9% and for women was in Andhra Pradesh at 73.6%.
In terms of its public services, it ranked 141.
India has been ranked 19 on the taxation pillar.
National Health Mission (NHM):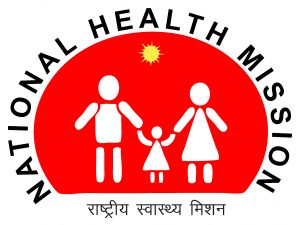 The Union Cabinet was apprised of the progress under National Health Mission (NHM) during FY 2019-20. The Cabinet noted that NHM has envisaged new Initiatives in 2019-20 as:
Social Awareness and Actions to Neutralize Pneumonia Successfully (SAANS) initiative was launched to accelerate action to reduce deaths due to childhood pneumonia.
Surakshit Matritva Aashwasan (SUMAN) initiative was launched to provide assured, dignified, respectful, and quality healthcare at no cost and zero tolerance for denial of services, and all existing Schemes for maternal and neonatal health have been brought under one umbrella.
Midwifery Services Initiative aims to create a cadre of Nurse Practitioners in Midwifery who are skilled in accordance to competencies prescribed by the International Confederation of Midwives (ICM) and are knowledgeable and capable of providing compassionate women-centered, reproductive, maternal, and newborn health care services.
School Health and Wellness Ambassadors Initiative have been launched under the AB-HWCs Programme in partnership with the Ministry of Education to promote health and well-being through an active lifestyle amongst school children.
Parosmia: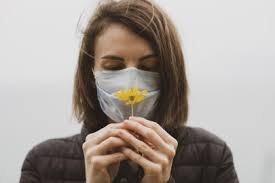 Some people may experience parosmia as a symptom of COVID-19.
Parosmia is a medical term used to describe a condition in which affected individuals experience "distortions of the sense of smell".
A person with parosmia can detect certain odours, but they might experience the smell of certain things as different and often unpleasant.
For instance, to someone with parosmia, coffee may smell like burnt toast.
Parosmia is a temporary condition and is not harmful.
This abnormality is typically experienced by those people who are recovering their sense of smell following loss from a virus or an injury.
Some common triggers of parosmia include roasted, toasted, or grilled foods, coffee, onions, chocolate, garlic, and eggs.
It is likely that parosmia manifests itself due to the damage caused to the olfactory neurons when "the delicate and complex structure in the nose is attacked by a virus.
GST Compensation: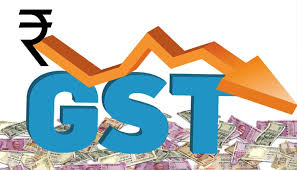 The Centre will release ₹30,000 crore as GST compensation to States this month, from the compensation cess collections during the year.
The pending compensation dues to States for 2020-21 are expected to be more than ₹77,000 crore.
The GST Compensation Act, 2017 guaranteed States that they would be compensated for any loss of revenue in the first five years of GST implementation, until 2022, using a cess levied on sin and luxury goods.
However, the economic slowdown has pushed both GST and cess collections down over the last year, resulting in a 40% gap last year between the compensation paid and cess collected.
States are likely to face a GST revenue gap of ₹3 lakh crore this year, as the economy may contract due to COVID-19, which Finance Minister Nirmala Sitharaman termed an unforeseen "act of God".
Compensation cess:
The modalities of the compensation cess were specified by the GST (Compensation to States) Act, 2017.
This Act assumed that the GST revenue of each State would grow at 14% every year, from the amount collected in 2015-16, through all taxes subsumed by the GST.
A State that had collected tax less than this amount in any year would be compensated for the shortfall.
The amount would be paid every two months based on provisional accounts and adjusted every year after the State's accounts were audited by the Comptroller and Auditor General.
Citizenship (Amendment) Act, 2019 (CAA):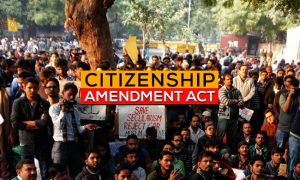 The government has been granted time till April 9 by Lok Sabha and July 9 by Rajya Sabha to frame rules under the citizenship law.
The Citizenship (Amendment) Act, 2019 (CAA) was notified on December 12, 2019 and came into force from January 10, 2020.
The Citizenship (Amendment) Act, 2019 seeks to amend the Citizenship Act, 1955.
The Citizenship Act,1955 provides various ways in which citizenship may be acquired.
It provides for citizenship by birth, descent, registration, naturalisation and by incorporation of the territory into India.
About CAA:
The objective of the CAA is to grant Indian citizenship to persecuted minorities — Hindu, Sikh, Jain, Buddhist, Parsi and Christian — from Pakistan, Bangladesh and Afghanistan.
Those from these communities who had come to India till December 31, 2014, facing religious persecution in their respective countries, will not be treated as illegal immigrants but given Indian citizenship.
The Act provides that the central government may cancel the registration of OCIs on certain grounds.
Exceptions:
The Act does not apply to tribal areas of Tripura, Mizoram, Assam and Meghalaya because of being included in the 6th Schedule of the Constitution.
Also, areas that fall under the Inner Limit notified under the Bengal Eastern Frontier Regulation, 1873, will also be outside the Act's purview.
Sixth Schedule: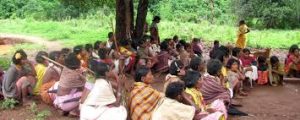 The Union Ministry of Home Affairs (MHA) informed the Lok Sabha that "presently, there is no proposal to implement panchayat system in Sixth Schedule areas of Assam".
The Sixth Schedule of the Constitution protects tribal populations and provides autonomy to the communities through the creation of autonomous development councils that can frame laws on land, public health, agriculture, and others.
As of now, 10 autonomous councils exist in Assam, Meghalaya, Tripura, and Mizoram.
The specified tribal areas are the North Cachar Hills, Karbi Anglong, and the Bodoland Territorial Area in Assam, Khasi Hills, Jaintiya Hills, and Garo Hills in Meghalaya, Tribal Areas in Tripura, and Chakma, Mara, and Lai districts in Mizoram.
On January 23, 2019, the Union Cabinet approved amendments to increase the financial and executive powers of the autonomous councils.
The Constitution (125th Amendment) Bill, 2019, was subsequently introduced in the Rajya Sabha on February 6, 2019, which provides for elected village municipal councils.
The Bill that is still active proposes that the State Election Commissions would hold elections to the autonomous councils, village, and municipal councils.
The Bill was introduced in the Upper House so that the legislation remains active even as the House was adjourned sine die before the 2019 general election.
Permanent Indus Commission: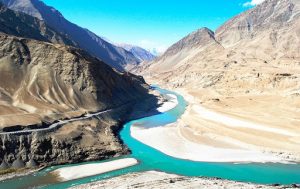 After a gap of more than two and half years Indian and Pakistani delegations began the 116th Meeting of the Permanent Indus Commission.
The Permanent Indus Commission (PIC) is a bilateral commission consisting of officials from India and Pakistan.
It was created to implement and manage the goals and objectives and outlines of the Indus Waters Treaty (IWT) which was signed in September 1960 with World Bank standing guarantee for any dispute resolution.
The last meeting of the Permanent Indus Commission was held on August 29, 2018.
Recent meeting: The meeting which coincided with the National Day of Pakistan is being viewed as part of the broader process of normalisation of bilateral ties between the two neighbours.
The two-day meeting of the Commission is being led on the Indian side by Indus Water Commissioner Pradeep Kumar Saxena.
The Pakistani delegation is led by Pakistan's Commissioner for Indus Waters Syed Mohammad Mehr Ali Shah.