Daily Current Affairs for Government Exams:
Today Current Affairs: 25th January 2020 for UPSC IAS exams, State PSC exams, SSC CGL, State SSC, RRB, Railways, Banking Exam & IBPS, etc.
Contents:
Establishment of Chairs in the Name of Eminent Women
National Voters' Day (NVD) :
New archaeon in Sambhar Salt Lake in Rajasthan
Sutlej Yamuna Link (SYL) Canal
NISHTHA
Birth tourism
6th Schedule Area status to Union Territory of Ladakh
Other important current affairs.
1. Establishment of Chairs in the Name of Eminent Women: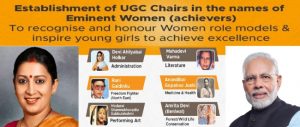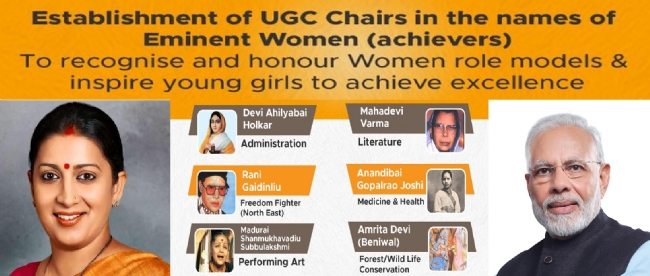 On the occasion of National Girl Child Day (January 24), the Ministry of Women and Child Development announced to set up ten Chairs in different fields with an aim to carry out research activities to encourage women.
The initiative is called the Establishment of Chairs in the Universities in the name of eminent women.
It is being launched by the Ministry of Women and Child Development with the assistance of the University Grants Commission (UGC).
The objective is to highlight and celebrate women achievers of the country to motivate young girls and women towards higher studies.
Academic functions of the Chairs will be to engage in research and contribute to the advancement of knowledge in the area of the study, strengthen the role of university and academics in public policymaking.
The financial implications of the proposal are 50 lakh rupees per Chair per year and the total expenditure for establishing ten Chairs will be approximately five crore rupees per annum.
The Chairs are to be established for a period of five years initially as per the guidelines.
The chairs proposed by UGC and approved by the Ministry are as under (Subject/Proposed name of chair):
Administration: Devi Ahilyabai Holkar
Literature: Mahadevi Varma
Freedom Fighter (North East): Rani Gaidinliu
Medicine & Health: Anandibai Gopalrao Joshi
Performing Art: Madurai Shanmukhavadivu Subbulakshmi
Forest/Wildlife Conservation: Amrita Devi (Beniwal)
Mathematics: Lilavati
Science: Kamala Sohonie
Poetry & Mysticism: Lal Ded
Educational Reforms: Hansa Mehta
2. National Voters' Day (NVD) :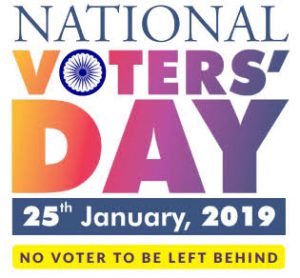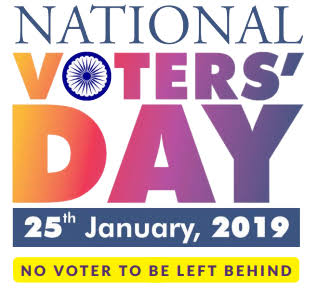 The 10th National Voters' Day (NVD) is being celebrated on January 25, 2020.
The theme for NVD-2020 is 'Electoral Literacy for Stronger Democracy.
January 25 (to mark the Foundation day of Election Commission of India, which was established on 25th January 1950).
It is celebrated every year since 2011.
The objective is to encourage, facilitate and maximize the enrolment, especially for the new voters; To spread awareness among voters for promoting informed participation in the elections.
3. New archaeon (a kind of microorganism), which they discovered in Sambhar Salt Lake in Rajasthan: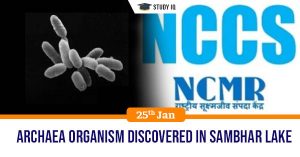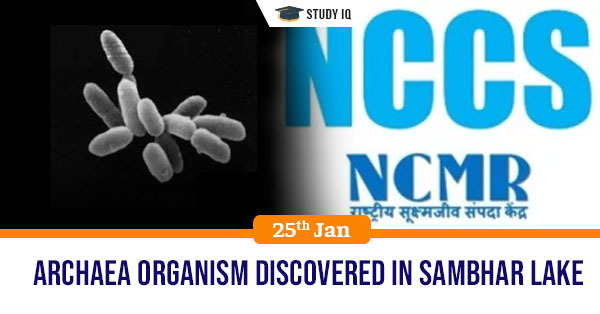 Recently, scientists at the National Centre for Microbial Resource under National Centre for Cell Science (NCMR-NCCS) in Pune have reported a new archaeon, which they discovered in Sambhar Salt Lake in Rajasthan.
Archaea (singular archaeon) are a primitive group of microorganisms that thrive in extreme habitats such as hot springs, cold deserts, and hypersaline lakes.
These slow-growing organisms are also present in the human gut and have a potential relationship with human health.
They are known for producing antimicrobial molecules, and for anti-oxidant activity with applications in eco-friendly waste-water treatment.
Archaea are extremely difficult to culture due to challenges in providing natural conditions in a laboratory setting.
Natrialba swarupiae:
The new archaeon discovered in Sambhar Lake has been named Natrialba swarupiae, after Dr. Renu Swarup, secretary, Department of Biotechnology, for her initiative in supporting microbial diversity studies in the country.
4. Sutlej Yamuna Link (SYL) Canal: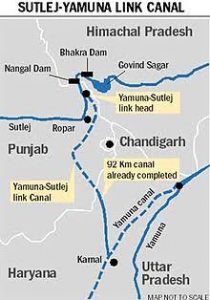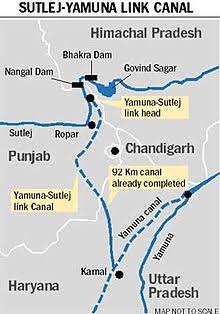 Punjab Says No Surplus Water To Share, Haryana Hits Back.
Punjab has also demanded that suitable amendments be made to the proposed Inter-State River Water Disputes Act to set up a new tribunal, to ensure that Punjab gets adequate water "in a just and equitable manner in keeping with its total demand and securing livelihood of the future generations."
Meanwhile, Haryana has said that the Supreme Court decision on the Sutlej Yamuna Link (SYL) canal issue will come soon because, in the previous executive order, it was stated that the issue should be resolved amicably.
What is the Sutlej Yamuna Link (SYL) Canal, and the controversy:
The creation of Haryana from the old (undivided) Punjab in 1966 threw up the problem of giving Haryana its share of river waters.
Punjab was opposed to sharing waters of the Ravi and Beas with Haryana, citing riparian principles, and arguing that it had no water to spare.
However, Centre, in 1976, issued a notification allocating to Haryana 3.5 million acre-feet (MAF) out of undivided Punjab's 7.2 MAF.
The Eradi Tribunal headed by Supreme Court Judge V Balakrishna Eradi was set up to reassess the availability and sharing of water.
The Tribunal, in 1987, recommended an increase in the shares of Punjab and Haryana to 5 MAF and 3.83 MAF, respectively.
To enable Haryana to use its share of the waters of the Sutlej and its tributary Beas, a canal linking the Sutlej with the Yamuna, cutting across the state, was planned.
A tripartite agreement was also negotiated between Punjab, Haryana, and Rajasthan in this regard.
The Satluj Yamuna Link Canal is a proposed 214-kilometer long canal to connect the Sutlej and Yamuna rivers.
However, the proposal met obstacles and was referred to the Supreme Court.
The canal defines river water sharing between Punjab and Haryana.
5. NISHTHA: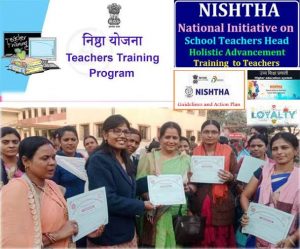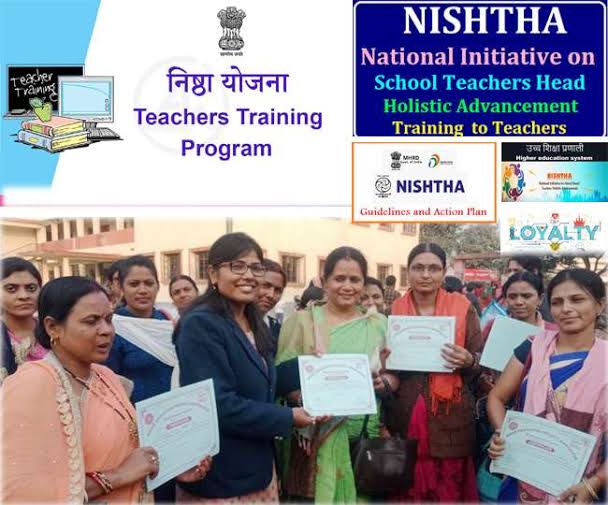 NISHTHA is the world's largest teachers' training program of its kind in the world.
It has been launched to improve Learning Outcomes at the Elementary level.
The basic objective of this massive training program is to motivate and equip teachers to encourage and foster critical thinking in students.
The initiative is first of its kind wherein standardized training modules are developed at the national level for all States and UTs.
However, States and UTs can contextualize the training modules and use their own material and resource persons also, keeping in view the core topics and expected outcomes of NISHTHA.
The prominent features of this integrated program are Activity-based modules including educational games and quizzes, Social-emotional learning, motivational interactions, team building, preparation for the school-based assessment, in-built continuous feedback mechanism, online monitoring and support system, training need and impact analysis (Pre and Post training).
6. Birth tourism: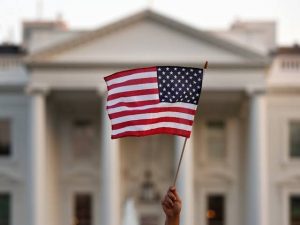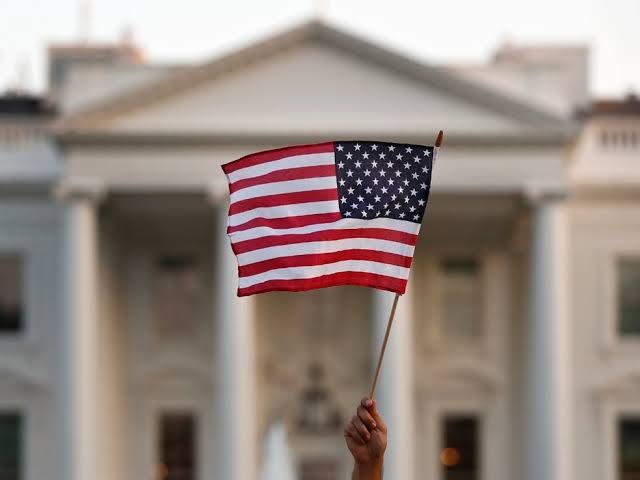 The US Department of State has unveiled new rules to deter pregnant women from traveling to the US to give birth.
The policy is intended as a crackdown on what is known as "birth tourism".
Currently, pregnant women can enter the US even up until birth, according to US Customs and Border Protection. But the prospective mother's travel may be restricted if there is reason to believe she intends to remain in the US beyond the time allowed by her visa, or plans for US taxpayers to foot the bill for her childbirth.
Need for the new policy?
Nearly all children born in the US gets automatic citizenship – a law US President Donald Trump has criticized. His administration says the new travel policy is necessary to safeguard US national security and public health.
What is the new rule?
The new rule applies to visitors seeking B visas, which are issued to non-immigrants.
Under the rule, pregnant women applying for US visitor visas may need to prove they have a specific reason for travel other than giving birth on US soil.
It allows consular officials to deny a visa to any individual whose "primary purpose" in obtaining such documentation is to give birth there.
7. 6th Schedule Area status to Union Territory of Ladakh: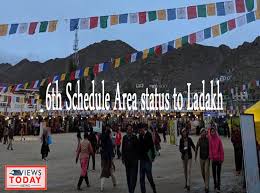 Union Tribal Affairs Ministry has proposed 6th Schedule Area status to Union Territory of Ladakh.
Tribal Affairs Minister also assured that his ministry will take all necessary measures to preserve and enrich the rich legacy of Ladakh.
Sixth Schedule (in Article 244 of the Indian Constitution) allows the constitution of Autonomous District Councils in Assam, Meghalaya, Tripura & Mizoram to safeguard the rights of tribal population.
Tribal Affairs Minister also assured that his ministry will take all necessary measures to preserve and enrich the rich legacy of Ladakh.
Environmentalist Sonam Wangchuk had last month appealed Prime Minister Narendra Modi to preserve the culture and identity of Ladakh
Other important current affairs:
1. The Income Tax Appellate Tribunal (ITAT) celebrated its 79th foundation day.
Income Tax Appellate Tribunal (ITAT) is a quasi-judicial institution set up in 1941under section 5A of the Income Tax Act, 1922.
Initially, it had three Benches at Delhi, Kolkata (Calcutta) and Mumbai (Bombay).
But presently ITAT has 63 Benches at 27 different stations covering almost all the cities having a seat of the High Court.
ITAT is referred to as the 'Mother Tribunal' being the oldest Tribunal in the country.
It deals with appeals under the Direct Taxes Acts namely, the Income-tax Act, 1961
2. The Department of Biotechnology (Ministry of Science & Technology) organized an International Summit on Women in STEM (Science, Technology, Engineering, and Mathematics) in New Delhi in January 2020.
The overall aim was to boost the participation of women in the STEM fields for the development of a scientific career.
Theme: Visualizing the Future: New Skylines.
3. The Union government, Maharashtra and the World Bank (WB) signed a loan agreement of $210 million to support small farmers participate in competitive agriculture value chains, facilitate agri-business investments, increase market access and productivity, and build the resilience of crops to recurrent floods or droughts in Maharashtra.
It is a significant step towards transforming the state's rural economy through sustainable agriculture and the empowerment of farmers by connecting them directly to the markets and doubling agriculture exports from the state.
This project is also in line with the National Action Plan on Climate Change (2008).
Maharashtra Agribusiness and Rural Transformation Project will help: Enhance the adoption of climate-resilient production techniques in the state.
4. The 3rd Khelo India Youth Games recently concluded in Guwahati, Assam.
The champions trophy was handed over to Maharashtra, the first runner up the trophy to Haryana and second runner up the trophy to Delhi.
Khelo India Youth Games is an annual event.
The first edition was held in 2018 in Delhi.
The second edition was held in Pune, Maharashtra.
5. Philanthropy arms of top corporates, including the Tatas, Mahindras, Godrejs, and Premji's, announced a partnership to minimize the climate change impact.
The India Climate Collaborative (ICC) will be working to strengthen the climate community locally, build a climate narrative and drive solutions that will ensure both the natural world and people thrive.
The announcement comes amid an increased conversation on climate change, with the 50th session of the World Economic Forum in Davos generating the maximum flutter, which has also seen US President Donald Trump calling the greens "prophets of doom"
6. The Supreme Court agreed to examine a proposition made by the Election Commission (EC) to ask political parties to not give the ticket to those with criminal antecedents.
The Bench also agreed to come up with a joint proposal detailing how it can be ensured that parties did not fall in with criminal politicians. Senior advocate Vikas Singh said 46% of Members of Parliament have criminal records.
A September 2018 judgment of a Constitution Bench led by then Chief Justice of India Dipak Misra had directed political parties to publish online the pending criminal cases against their candidates.
The judgment had also urged Parliament to bring a "strong law" to cleanse political parties of leaders facing trial for serious crimes.
7. Katerina Sakellaropoulou (63-years) has been elected Greece's first female president by parliament.
She also managed to secure the backing of the main opposition party Syriza & the center-left Movement for Change.
8. India's first e-waste clinic has been inaugurated by the Union Environment Secretary in Bhopal, Madhya Pradesh.
It would enable segregation, processing, and disposal of waste from both household and commercial units.
The e-waste clinic is jointly set up by the Central Pollution Control Board-CPCB and Bhopal Municipal Corporation-BMC.
The e-waste clinic is being started on the basis of a three-month pilot project.
9. Chief Election Commissioner (CEC) Sunil Arora has assumed Chairmanship of the Forum of the Election Management Bodies of South Asia (FEMBoSA) for the year 2020.
CEC of Bangladesh SA KM Nurul Huda (Outgoing Chair of FEMBo) handed over the Logo of FEMBoSA to Mr. Arora at the 10th Annual Meeting in New Delhi.
FEMBoSA was established at the 3rd Conference of Heads of Election Management Bodies of SAARC Countries held at New Delhi in May 2012.
10. ICICI Bank has rolled out "Cardless Cash Withdrawal" service through ATM, used for cash withdrawal having a per day transaction limit of Rs 20,000.
The service will enable the ICICI customers to withdraw cash from the ATM by putting a request on ICICI Internet Banking App "iMobile".
This service provides a cash withdrawal facility from ATM without any use of the Debit Card.
11. Himachal Pradesh is celebrating its 50th Statehood Day.
On 18 December 1970 the State of Himachal Pradesh Act was passed by Parliament and the new state came into being on 25 January 1971 making it the 18th state of India.