Annual Survey Of India's City-Systems 2023: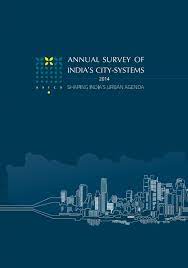 The Annual Survey of India's City-Systems (ASICS) 2023, published by the Janaagraha Centre for Citizenship and Democracy, a non-profit institution, highlights the challenges and constraints faced by the Local Governments in Indian Cities.
Highlights of the ASICS Report:
Eastern states, comprising Bihar, Chhattisgarh, Jharkhand, Odisha and West Bengal, have relatively better urban legislations followed by southern states.
Urban legislations are not available in the public domain in accessible formats. Only 49% of states/UTs have put out municipal legislations on websites of respective state urban departments.
At least 39% of India's capital cities lack an active master plan.
A majority of Local Governments in Indian cities are financially dependent on their respective state governments, limiting their financial autonomy.
Local governments in Indian cities have limited control over key financial matters, including taxation, borrowing, and budget approval, with the need for state government approval in most cases.
Only Assam empowers its city governments to collect all key taxes. Except five States — Bihar, Jharkhand, Odisha, Meghalaya, and Rajasthan — all the others have to get approval from the State before borrowing money.
There are disparities in the level of influence and control over finances across different city categories, including megacities (>4 million (mn) population), large cities (1-4 mn), medium cities (0.5 mn-1 mn), small cities (<0.5 mn).
Mayors in megacities are not directly elected and do not have a five-year tenure, whereas mayors in smaller cities are directly elected but have limited authority over city finances.
Indian cities face challenges in financial transparency, with a lack of quarterly financial audited statements and limited dissemination of annual audited financial statements. This issue is more pronounced in larger cities.
Only 28% of the cities disseminate their annual audited financial statements. The number goes down further to 17% if only the mega cities are considered.
While bigger cities do publish their city budgets, smaller cities lag there with just 40%-65% of them publishing that information.
35% of posts in India's municipal corporations are vacant. The vacancy progressively worsens with 41% posts being vacant among municipalities and 58% being vacant in town panchayats.
A comparison with global metropolises such as New York, London, and Johannesburg shows significant differences in the number of city staff per one lakh population and the administrative powers granted to these cities.