Water And Heritage Shield Award: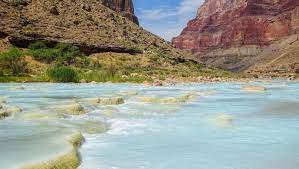 A sacred Hopi site in Arizona was awarded the ICOMOS Water and Heritage Shield
The purpose of the Shield is to help the public become aware of the significance of water and indigenous sacred sites all over the world and the right to cultural and historical memory.
The Sípàapu is a rocky dome made of limestone as well as a spring located on the Little Colorado river, a tributary of Colorado.
Little Colorado joins the main stem of the river within the Grand Canyon, a UNESCO World Heritage Site.
The ancestors of the Hopi dwelled throughout the Grand Canyon before the 1250 Common Era.
Little Colorado, especially the confluence, is sacred not only to the Hopi but also to other Native American groups such as the Navajo and Zuni.
The Hopi consider the Sípàapu to be the place from where their ancestors emerged from another world into this one.
International Committee On Monuments and Sites:
It is a global non-governmental organization associated with UNESCO
Its mission is to promote the conservation, protection, use and enhancement of monuments, building complexes and sites.
It is an Advisory Body of the World Heritage Committee for the implementation of the World Heritage Convention of UNESCO.