Today Current Affairs: 27th February 2021 for UPSC IAS exams, State PSC exams, SSC CGL, State SSC, RRB, Railways, Banking Exam & IBPS, etc
Ceasefire Agreements Along The Line Of Control: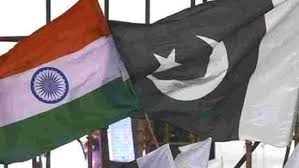 India and Pakistan have agreed to observe the 2003 ceasefire agreements along the Line of Control (LoC) and all other sectors.
The agreement comes in the wake of over 5000 instances of CrossFire Violations (CFVs) along the Line of Control (LoC) and other areas in Jammu and Kashmir, resulting in 46 fatal casualties in 2020.
The decision was taken after discussion between the two Director Generals of Military Operations (DGsMO).
2003 Ceasefire Agreements:
The original ceasefire agreement was reached in November 2003, four years after the Kargil War (1999).
The 2003 ceasefire agreement remains a milestone as it brought peace along the LoC until 2006. Between 2003 and 2006, not a single bullet was fired by the jawans of India and Pakistan.
But since 2006, ceasefire violations have become the norm with increasing frequency.
Backchannel Diplomacy:
Several signs indicate that back-channel diplomacy led up to the talks and helped produce a joint statement between the two sides, beginning with the Pakistan Army chief General's call for resolving the Kashmir issue "peacefully" earlier in the month of February 2021.
Pakistan supported India's five proposals for collaboration at the South Asian level on containing Covid-19.
India allowed the aircraft carrying Pakistan Prime Minister a clear passage to Sri Lanka, where the Pakistani leader declared a USD 50 million defense line of credit for Colombo.
However, during these apparent signs of back-channel negotiations, both sides have maintained their respective positions on the Kashmir issue.
After the Pakistan government moved to provide provisional provincial status for Gilgit Baltistan in November 2020, India hit out saying Gilgit Baltistan was an "integral part of India".
India and China announced that both have agreed to establish a Hotline: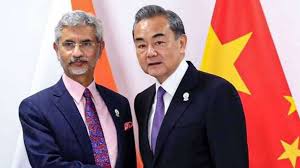 Hotline:
The decision to install a Hotline between the two countries was taken over a telephonic meeting between India's External Affairs Minister and China's Foreign Affairs Minister.
The hotline is a direct telephone line in constant operational readiness so as to facilitate immediate communication.
The Hotline will be helpful in timely communication and exchange of views between the two countries.
India's Stand:
Reiterated the 'three mutuals' (mutual respect, mutual sensitivity, and mutual interests) as the approach to the relationship.
Disengagement, followed by de-escalation, will lead to peace along the Line of Actual Control (LAC), and eventually normalization of ties.
China's Stand:
The boundary situation should not be placed at the front and center of the relationship, but instead at a "proper place" in overall ties.
The indication was the two sides should return to business as usual while the issue is dealt with.
Second Advance Estimates Of National Income, 2020-21: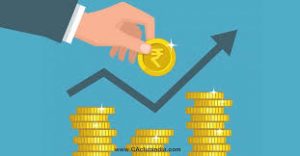 The National Statistical Office (NSO), Ministry of Statistics and Programme Implementation has released the Second Advance Estimates of National Income, 2020-21 at Constant (2011-12) and Current Prices.
The growth in GDP during 2020-21 is estimated at -8.0 percent as compared to 4.0 percent in 2019-20.
GDP at Current Prices in the year 2020-21 is estimated to grow at rate of -3.8 percent.
The Per Capita Income in real terms (at 2011-12 Prices) during 2020-21 is estimated to attain a level of ₹ 85,929 as compared to ₹ 94,566 in the year 2019-20, giving a growth of -9.1 percent during 2019-20.
The Per Capita Income at current prices during 2020-21 is estimated to be ₹ 127,768, showing a decline of 4.8 percent.
The agriculture sector is estimated to see a growth of 3 percent in 2020-21. However, it will be lower than 4.3 percent growth recorded in 2019-20.
The manufacturing sector is estimated to contract 8.4 per cent during FY21, while electricity is likely to grow at 1.8 per cent. Among services sectors, trade, hotel, transport are projected to contract 18 per cent.
Competition Commission of India (CCI):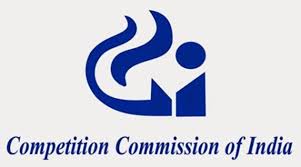 Union Minister for Finance and Corporate Affairs inaugurated the Competition Commission of India's (CCI) Regional Office (South) in Chennai.
Status: A statutory body established under the provisions of The Competition Act, 2002.
Established in: 2003.
A Chairperson and 6 Members appointed by the Central Government.
Headquarters: New Delhi.
Preceding agency: Monopolies and Restrictive Trade Practices Commission.
Mandate:
To implement provisions of The Competition Act, 2002 which –
prohibits anti-competitive agreements and abuse of dominant position by enterprises
regulates mergers and acquisition (M&A) which can have an adverse effect on competition within India. Thus, deals beyond a certain threshold are required to get clearance from CCI.
E-Daakhil Portal: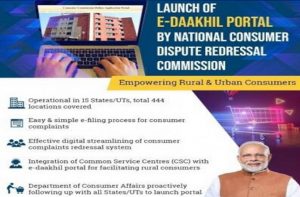 E-Daakhil portal for Consumer grievance redressal is now operational in 15 States/UTs. Department of Consumer Affairs is now proactively following up with the states to launch e-filing portal at their ends.
E-filing was launched by National Consumer Dispute Redressal Commission (NCDRC) on 7th September 2020. Delhi was the first state to implement it on 8th September 2020.
The Consumer Protection Act, 2019, which has come into force from 20th July, 2020, has provision for e-filing of consumer complaints in the Consumer Commissions and online payment of the fees for filing a complaint.
A web application for the E-filing of consumer complaints has been developed by NIC for this purpose.
This digital software for filing consumer complaints has many features like e-Notice, case document download link & VC hearing link, filing written response by the opposite party, fling rejoinder by complainant, and alerts via SMS/Email.
Inflation Targeting: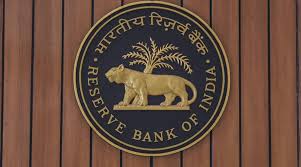 The Reserve Bank of India (RBI) in its Currency and Finance (RCF) report for the year 2020-21 has said that the current inflation target band (4% +/-2%) is appropriate for the next 5 years.
Inflation Targeting:
It is a central banking policy that revolves around adjusting monetary policy to achieve a specified annual rate of inflation.
The principle of inflation targeting is based on the belief that long-term economic growth is best achieved by maintaining price stability, and price stability is achieved by controlling inflation.
Strict inflation targeting is adopted when the central bank is only concerned about keeping inflation as close to a given inflation target as possible, and nothing else.
Flexible inflation targeting is adopted when the central bank is to some extent also concerned about other things, for instance, the stability of interest rates, exchange rates, output, and employment.
Findings of the RCF Report:
The trend inflation has fallen from above 9% before FIT to a range of 3.8-4.3 % during the FIT, indicating that 4% is the appropriate level of the inflation target for the country.
An inflation rate of 6% is the appropriate upper tolerance limit for the inflation target.
On the other hand, a lower bound above 2% can lead to actual inflation frequently dipping below the tolerance band.
While, a lower bound below 2% will hamper growth, indicating that an inflation rate of 2% is the appropriate lower tolerance bound.
During the FIT period, the monetary transmission has been full and reasonably swift across the money market (trading in very short-term debt instruments) but less than complete in the bond markets.
1% Threshold For Genetically Modified Organisms (GMO):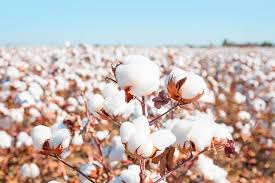 The Food Safety and Standards Authority of India (FSSAI) in a recent order has set 1% threshold for Genetically Modified Organisms (GMO) in food crops imported into India.
Earlier in August 2020, FSSAI had issued the order that 24 food crops the country imports would need a 'non-GM-origin-cum-GM-free certificate' issued by a competent authority.
Genetically Modified Organisms (GMOs):
These are living organisms whose genetic material has been artificially manipulated in a laboratory through genetic engineering.
This creates combinations of plant, animal, bacteria, and virus genes that do not occur in nature or through traditional crossbreeding methods.
Genetically Modified Crops:
Conventional plant breeding involves the crossing of species of the same genus to provide the offspring with the desired traits of both parents.
Bt cotton is the only Genetically Modified (GM) crop that is allowed in India. It has alien genes from the soil bacterium Bacillus thuringiensis (Bt) that allows the crop to develop a protein toxic to the common pest pink bollworm.
Herbicide Tolerant Bt (Ht Bt) cotton, on the other hand is derived with the insertion of an additional gene, from another soil bacterium, which allows the plant to resist the common herbicide glyphosate.
In Bt brinjal, a gene allows the plant to resist attacks of fruit and shoot borers.
In DMH-11 mustard, genetic modification allows cross-pollination in a crop that self-pollinates in nature.
Legal Position of GM crops in India:
In India, the Genetic Engineering Appraisal Committee (GEAC) is the apex body that allows for the commercial release of GM crops.
Use of the unapproved GM variant can attract a jail term of 5 years and fine of Rs. 1 lakh under the Environment Protection Act, 1986.
Saras Aajeevika Mela 2021 At Noida Haat: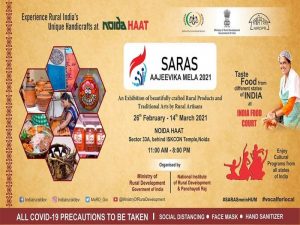 Minister of Rural development inaugurated Saras Aajeevika Mela 2021 at Noida Haat.
Ministry of Rural Development is working to include more women in Self Help Groups (SHGs). He said these SHGs played a vital role in increasing family income and improving quality of life.
The Saras Aajeevika Mela 2021 is being organized from 26th February to 14th March 2021 by the Ministry of Rural Development.
More than 300 rural self-help groups and craftsmen from 27 states are participating in the Mela.
It is a program to transform rural India in general and the lives of rural women in particular.
During the Mela, workshops on product packaging and design, communication skills, social media publicity and Business to Business marketing will be organized to educate the rural self-help groups and craftsmen.
It is an initiative by the Deendayal Antyodaya Yojana-National Rural Livelihoods Mission (DAY-NRLM) under the Ministry of Rural Development (MoRD) organised by the Council for Advancement of People's Action and Rural Technology (CAPART).
CAPART is an autonomous body set up by the Ministry of Rural Development to interface between the government and Non-governmental Organizations (NGOs) that seek to improve the quality of life in India's rural areas.
Guru Ravidas Jayanti: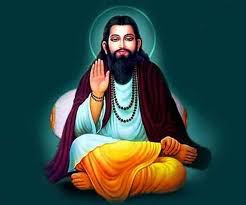 Guru Ravidas Jayanti is celebrated on Magh Purnima (27th February 2021), the full moon day in the month of Magh according to the Hindu lunar calendar.
About Guru Ravidas:
He was a 14th-century saint and reformer of the Bhakti movement in North India.
It is believed that he was born in Varanasi in a cobbler's family.
He gained prominence due to his belief in one God and his unbiased religious poems.
He dedicated his whole life to the abolition of the caste system and openly despised the notion of a Brahminical society.
His devotional songs made an instant impact on the Bhakti Movement and his poems were included in 'Guru Granth Sahib', the religious text of the Sikhs.