Chandrayaan-3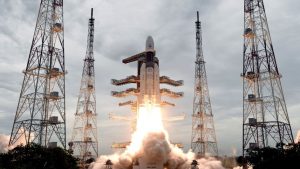 Indian Space Research Organisation (ISRO) is likely to launch India's third lunar mission 'Chandrayaan-3' in the third quarter of 2022.
Chandrayaan-3 is a lander-and rover-specific mission, which will demonstrate India's capability of soft landing on a celestial body, with the rover then communicating with Earth via the existing orbiter from Chandrayaan-2 and taking images 100 km from Moon's orbit.
The orbiter has an estimated lifespan of seven years.
The unique exploration of Chandrayaan-3 aims at studying not just one area of the Moon but all the areas combining the exosphere, the surface as well as the sub-surface in a single mission.
The Lunar South pole is especially interesting because the lunar surface area that remains in shadow is much larger than that at the North Pole. Further, there could be a possibility of the presence of water in permanently shadowed areas around it.
In addition, the South Pole region has craters that are cold traps and contain a fossil record of the early Solar System.