Quality Council Of India (QCI):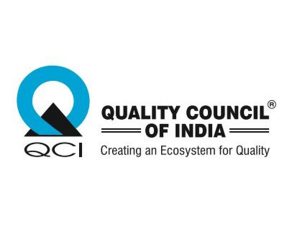 The Quality Council of India is set to celebrate its Silver Jubilee at the Ambedkar International Centre in New Delhi
Quality Council of India was set up in 1997, jointly by the Government of India and the Indian Industry represented by the three premier industry associations i.e. Associated Chambers of Commerce and Industry of India (ASSOCHAM),
Confederation of Indian Industry (CII) and Federation of Indian Chambers of Commerce and Industry (FICCI), with Mr Ratan Tata as its first Chairman.
QCI was established as a National body for Accreditation. It is a non-profit organization registered under the Societies Registration Act XXI of 1860.
QCI has launched a marquee campaign–Gunvatta Se Atmanirbharta: India's quality movement.
The campaign aims to celebrate India's quality hubs, create awareness about India's landmark achievements and inform people about the many initiatives that India is embracing with an aim to enhance the quality of lives of all our citizens.