Daily Current Affairs for Government Exams:
Today Current Affairs: 3rd December 2020 for UPSC IAS exams, State PSC exams, SSC CGL, State SSC, RRB, Railways, Banking Exam & IBPS, etc
Contents:
Pfizer-BioNTech Covid-19 vaccine:
World Malaria Report (WMR) 2020:
International Association of Insurance Supervisors (IAIS):
.Data on Gender Gap in Judiciary:
Manual Scavenging:
Tobacco Ban in Jharkhand:
Other important current affairs:
1.Pfizer-BioNTech Covid-19 vaccine: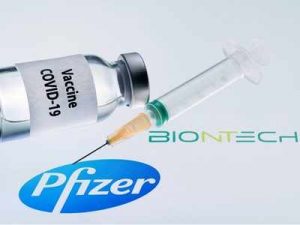 Britain became the first country in the world to approve the Pfizer-BioNTech Covid-19 vaccine for use and said that it will be rolled out from early next week.
The British regulator Medicines and Healthcare products Regulatory Agency (MHRA) declared that the vaccine offers protection of up to 95 per cent and is safe to be used for immunization against Covid-19.
The American pharmaceutical giant Pfizer and its German partner BioNTech last month concluded phase 3 study of their mRNA-based Covid-19 vaccine candidate BNT162b2, meeting all primary efficacy endpoints.
BNT162b2 is a COVID-19 vaccine candidate developed by BioNTech and Pfizer and given by intramuscular injection.
It is an RNA vaccine composed of nucleoside-modified mRNA encoding a mutated form of the spike protein of SARS-CoV-2 and is encapsulated in lipid nanoparticles.
2.World Malaria Report (WMR) 2020: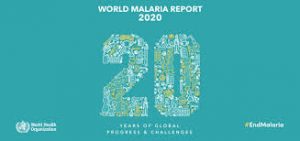 The World Health Organisation (WHO) has released the World Malaria Report (WMR) 2020.
The report provides a comprehensive update on global and regional malaria data and trends including prevention, diagnosis, treatment, elimination and surveillance.
It indicates that India has made considerable progress in reducing its malaria burden.
Global Analysis:
Malaria cases globally numbered about 229 million, an annual estimate that has remained virtually unchanged over the last four years.
In 2019, it claimed about 4,09,000 lives, compared to 4,11,000 in 2018.
The report noted that the 11 highest-burden countries viz. Burkina Faso, Cameroon, the Democratic Republic of the Congo, Ghana, India, Mali, Mozambique, Niger, Nigeria, Uganda and Tanzania, account for 70% of the global estimated case burden and 71% of global estimated deaths from malaria.
Countries in South-East Asia made particularly strong progress, with reductions in cases and deaths of 73% and 74%, respectively.
Indian Analysis:
India is the only high endemic country which has reported a decline of 17.6% in 2019 as compared to 2018.
The Annual Parasite Incidence (API, the number of new infections per year per 1000 population) reduced by 18.4% in 2019 as compared to 2018.
India has sustained API less than one since the year 2012.
India has also contributed to the largest drop in cases region-wide, from approximately 20 million to about 6 million.
The percentage drop in the malaria cases was 71.8% and deaths were 73.9% between 2000 to 2019.
India achieved a reduction of 83.34% in malaria morbidity and 92% in malaria mortality between the year 2000 and 2019, thereby achieving Goal 6 of the Millennium Development Goals.
MDG 6 aimed to combat HIV/AIDS, malaria and other diseases, which have a direct and indirect impact on rural development, agricultural productivity and food and nutrition security.
The Sustainable Development Goals have replaced the MDGs.
States of Odisha, Chhattisgarh, Jharkhand, Meghalaya and Madhya Pradesh (high endemic states) disproportionately accounted for nearly 45.47% of malaria cases in 2019.
63.64% of malaria deaths were also reported from these states.
The figures and trends between the last two decades clearly show the drastic decline in malaria, hence the malaria elimination target of 2030 looks achievable.
3.International Association of Insurance Supervisors (IAIS):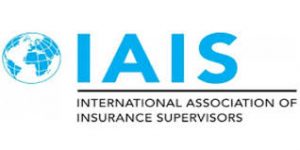 The International Financial Services Centres Authority (IFSCA) obtained membership in the International Association of Insurance Supervisors (IAIS).
Established in 1994, the IAIS headquartered in Switzerland.
It is a voluntary membership organization of insurance supervisors and regulators from more than 200 jurisdictions, constituting 97% of the world's insurance premiums. Some of the leading members of IAIS are:

United Kingdom- Financial Conduct Authority (FCA),
USA- National Association of Insurance Commissioners (NIAC),
India- Insurance Regulatory and Development Authority of India (IRDAI) etc.

It is the international standard-setting body responsible for developing and assisting in the implementation of principles, standards and other supporting material for the supervision of the insurance sector.
With this membership IFSCA would have access to IAIS's global network and would be able to exchange ideas and information with other global regulators. This would help in developing a vibrant global Insurance hub in IFSC at GIFT City.
4.Data on Gender Gap in Judiciary: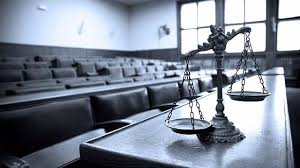 The Attorney General (AG) K K Venugopal, in his written submission to the Supreme Court (SC), has emphasised the need for greater gender sensitisation among members of the judiciary.
He also highlighted that the figure of female judges has been consistently low across the Higher Judiciary.
The SC had asked AG and others to recommend ways to improve gender sensitivity towards victims while laying down bail conditions for sex crime offenders.
The Bench had sought a view on a plea about courts imposing bail conditions for sex crime offenders which end up further harassing, objectifying their victims.
The Madhya Pradesh (MP) High Court (HC) asked a man (accused in a case of attempting to outrage the modesty of a woman) to visit the home of the alleged victim and request her to tie a rakhi.
Data on Gender Gap in Judiciary:
The SC only has 2 women judges, as against the 34 seats reserved for women judges and there has never been a female Chief Justice of India (CJI).
There are only 80 women judges out of the total sanctioned strength of 1,113 judges in the SC and the HCs.
Out of these 80 women judges, there are only two in the SC, and the other 78 are in various HCs, comprising only 7.2% of the total number of judges.
Of the 26 courts whose data was accessed, including the SC, the Punjab and Haryana HCs has the maximum strength of women judges (11 out of 85 judges) in the country, followed by the Madras HC (9 out of 75 judges).
Both Delhi and Bombay HCs have 8 women judges.
The HCs of Manipur, Meghalaya, Patna, Tripura, Telangana, and Uttarakhand, do not have any women in the sitting judges.
Currently, no data is centrally maintained on the number of women in tribunals or lower courts.
In the senior designation of lawyers, there are only 17 women senior counsel designates in the SC as opposed to 403 men.
The Delhi HC has 8 women and 229 men designate.
Similarly, in the Bombay HC, there are 6 women and 157 men designate.
5. Manual Scavenging: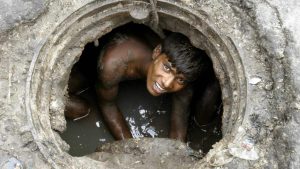 The government has announced two major initiatives for ending the hazardous practice of manual cleaning of septic tanks and sewer lines and making mechanised cleaning must.
The Ministry of Social Justice and Empowerment will amend the law for making machine cleaning mandatory, whereas the Ministry of Housing and Urban Affairs has launched the Safaimitra Suraksha Challenge.
Key Points
Amending the Law: Introduction of 'The Prohibition of Employment as Manual Scavengers and their Rehabilitation (Amendment) Bill, 2020' as a part of Social Justice and Empowerment Ministry's National Action Plan.
The Plan aims to modernise existing sewage system and coverage of non-sewered areas; setting up of faecal sludge and septage management system for mechanised cleaning of septic tanks, transportation and treatment of faecal sludge; equipping the municipalities, and setting up of Sanitation Response Units with help lines.
The Bill makes the following important changes:
Mechanised Cleaning: The Bill proposes to completely mechanise sewer cleaning and provide better protection at work and compensation in case of accidents.
Penalty: The Bill proposes to make the law banning manual scavenging more stringent by increasing the imprisonment term and the fine amount.
Currently, engaging any person for hazardous cleaning of sewers and septic tanks by any person or agency is punishable with imprisonment of up to five years or a fine of up to Rs. 5 lakh or both.
Funds: The funds will be provided directly to the sanitation workers and not to the municipalities or contractors to purchase the machinery.
Safaimitra Suraksha Challenge:
Launch: The challenge has been launched among 243 major cities on the World Toilet Day (19th November).
Aim: To prevent hazardous cleaning of sewers and septic tanks and promote their mechanized cleaning.
The Government launched this "challenge" for all states to make sewer-cleaning mechanised by April 2021 — if any human needs to enter a sewer line in case of unavoidable emergency, proper gear and oxygen tanks, etc., are to be provided.
Eligibility: The state capitals, urban local bodies and smart cities will be eligible to participate.
Prize: Cities will be awarded in three sub-categories – with a population of more than 10 lakhs, 3-10 lakhs and upto 3 lakhs, with a total prize money of Rs. 52 crores to be given to winning cities across all categories.
About Manual Scavenging:
Definition: Manual scavenging is defined as "the removal of human excrement from public streets and dry latrines, cleaning septic tanks, gutters and sewers".
As per the National Commission for Safai Karamcharis (NCSK), a total of 631 people have died in the country while cleaning sewers and septic tanks in the last 10 years.
2019 saw the highest number of manual scavenging deaths in the past five years. 110 workers were killed while cleaning sewers and septic tanks.
This is a 61% increase as compared to 2018, which saw 68 cases of such similar deaths.
Despite the introduction of several mechanised systems for sewage cleaning, human intervention in the process still continues.
As per data collected in 2018, 29,923 people are engaged in manual scavenging in Uttar Pradesh, making it the highest in any State in India.
6.Tobacco Ban in Jharkhand: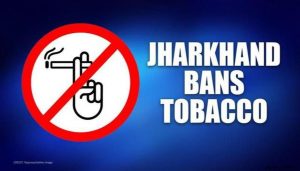 The Jharkhand Government, in a recent order, has banned the consumption of any form of tobacco products for all State Government employees.
The State Government has made it mandatory for all state government employees to submit an affidavit stating that they will abstain from consuming any form of tobacco.
Tobacco products include any cigarettes, bidi, khaini, gutkha, pan masala, zarda, or supari as well as hukka, e-hookah, e-cigarettes, and tobacco products being used by any name – smoking and smokeless.
The decision was taken at a meeting of the National Tobacco Control Programme's state chapter, with an aim to implement the Cigarettes and other Tobacco Products Act, 2003 (COTPA).
The decision will be implemented from 1st April 2021.
There has been no clarity over penal provision in case of violation of the order.
The government is also taking measures for bringing behavioural change by using panchayat level institutions.
Zila Parishads, Panchayat Samitis and Gram Panchayats are asked to organise tobacco control discussions in every gram sabha meeting.
The Police have been ordered to increase vigil at checkposts to stop entry of banned tobacco products.
Previously in April 2020, Jharkhand had banned sale and consumption of tobacco products in public places, including online sales, in view of an increase in chances of Covid-19 infection.
Tobacco Control in India
International Convention: India ratified the WHO Framework Convention on Tobacco Control (WHO FCTC) in 2004.
Cigarettes and Other Tobacco Products Act (COTPA), 2003:

Replaced the Cigarettes Act of 1975 (largely limited to statutory warnings- 'Cigarette Smoking is Injurious to Health' to be displayed on cigarette packs and advertisements. It did not include non-cigarettes).
The 2003 Act also included cigars, bidis, cheroots, pipe tobacco, hookah, chewing tobacco, pan masala, and gutka.

National Tobacco Control Programme (NTCP), 2008:

Objective: To control tobacco consumption and minimize tobacco consumption-related deaths.
Implementation: NTCP is implemented through a three-tier structure, i.e. (i) National Tobacco Control Cell (NTCC) at Central level (ii) State Tobacco Control Cell (STCC) at State level & (iii) District Tobacco Control Cell (DTCC) at District level.

Cigarettes and other Tobacco Products (Packaging and Labelling) Amendment Rules, 2020:

These provide for new sets of specified health warnings with enhanced pictorial images to be printed on all tobacco products.

mCessation Programme:

It is an initiative using mobile technology for tobacco cessation.
India launched mCessation using text messages in 2016 as part of the government's Digital India initiative.

Prevention and Control of Pollution Act of 1981:

Recognized smoking as an air pollutant.
Other important current affairs:
1.International Day of Persons with Disabilities is being observed on December 3, 2020.
International Day of People with Disabilities (IDPWD) is a United Nations-sanctioned day celebrated internationally on 3 December each year.
The annual observance of the International Day of Disabled Persons was proclaimed in 1992 by United Nations General Assembly resolution 47/3.
Its objective is to promote the rights and well-being of persons with disabilities in all spheres of society and development and to increase awareness.
2.Union Education Minister has set up a task force for preparing a roadmap on imparting technical education in the mother tongue of students.
The Task force:

It will be set-up under the chairmanship of the secretary, higher education, Amit Khare.
Objective: To achieve the Prime Minister's vision that students may pursue the professional courses such as medicine, engineering, law, etc in their mother tongue.
This is part of the National Education Policy (NEP) 2020 which suggests teaching in regional language till class 8 and enabling teaching the curriculum in a language which a student is comfortable in.
Function: It will take into consideration the suggestions made by various stakeholders and will submit a report in a month.
3.As per an investigation carried out by the Centre for Science and Environment (CSE), honey sold by several major brands in India has been found adulterated with sugar syrup.
CSE is a not-for-profit public interest research and advocacy organisation.
Findings:

Samples of 10 out of 13 brands, which were examined, failed to clear the Nuclear Magnetic Resonance (NMR) test.
Honey samples from brands such as Dabur, Patanjali, Baidyanath, Zandu, Hitkari and Apis Himalaya, all failed the internationally accepted NMR test.
Indian companies in the business of honey are importing synthetic sugar syrups from China for adulterating with honey.
CSE tracked down Chinese trade portals which were advertising fructose syrup that can bypass tests to check adulteration.
Chinese companies informed CSE that even if 50-80% of the honey is adulterated with syrup, they would pass all stipulated tests as per Indian standards.
Tests employed as per Indian regulations check whether the honey is adulterated with C4 sugar (cane sugar) or C3 sugar (rice sugar).
Adulteration also destroyed the livelihoods of bee-keepers who found it unprofitable to make pure honey because sugar-syrup honey was often available at half the price.
4.IIT Kanpur Researchers have developed 'Damaru' Inspired Lattice that finds applications in stealth submarines and high-speed trains.
IIT Kanpur researchers have demonstrated how with the use of a micro-structured hour-glass shaped meta-structure in the lattice unit, one can get a wider variety of propagation and stop bands.
The inspiration of the lattice they developed has come from a two-headed drum called 'Damaru' or 'Damaru' which is used in ancient Hinduism and Tibetan Buddhism. It is said that Lod Shiva has produced a special sound through this musical instrument to create and regulate the universe.
In this application, IIT Kanpur researchers have shown the nature of stiffness of a vibrating medium could be altered drastically by controlling the lattice micro-structure from regular honeycomb to auxetic honeycomb structure.
This has wide applications in the field of vibration isolation in high-speed trains, stealth submarines and helicopter rotors.
This work is sponsored by a SPARC project of Ministry of Education.