Daily Current Affairs for Government Exams:
Today Current Affairs: 2nd December 2020 for UPSC IAS exams, State PSC exams, SSC CGL, State SSC, RRB, Railways, Banking Exam & IBPS, etc
Contents:
Covid-19 vaccine
Organization of Islamic Cooperation (OIC).:
Farmer protests:
National Maritime Domain Awareness Centre:
Purchasing Managers' Index (PMI):
MSP:
Other important current affairs:
1.Covid-19 vaccine.: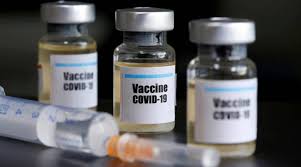 US drugmaker Moderna is applying for emergency use authorization for its Covid-19 vaccine.
A few days earlier, Pfizer applied for emergency use authorization for the vaccine it has developed in collaboration with BioNTech.
In India, the Serum Institute of India, which is trialing a version of the AstraZeneca-Oxford vaccine, has said it expects to seek emergency use authorization within the next two weeks.
Regular procedure for drug approval:
Vaccines and medicines, and even diagnostic tests and medical devices, require the approval of a regulatory authority before they can be administered.
In India, the regulatory authority is the Central Drugs Standard Control Organisation (CDSCO).
For vaccines and medicines, approval is granted after an assessment of their safety and effectiveness, based on data from trials.
In the US, the Food and Drug Administration (FDA) grants EUA only after it has been determined that the "known and potential benefits outweigh the known and potential risks of the vaccine" (or medicine).
This means that a EUA application can be considered only after sufficient efficacy data from phase 3 trials had been generated.
A EUA cannot be granted solely on the basis of data from phase 1 or phase 2 trials.
Experts and activists say India's drug regulations do not have provisions for a EUA, and the process for receiving one is not clearly defined or consistent.
Despite this, CDSCO has been granting emergency or restricted emergency approvals to Covid-19 drugs during this pandemic for remdesivir and favipiravir.
According to the US FDA, the public has to be informed that a product has only been granted a EUA and not full approval
In the case of a Covid-19 vaccine, for example, people have to be informed about the known and potential benefits and risks, and the "extent to which such benefits or risks are unknown", and that they have a right to refuse the vaccine.
2.Organisation of Islamic Cooperation (OIC).: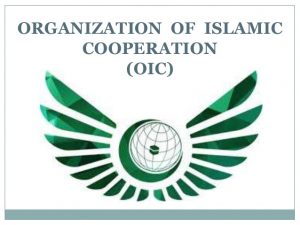 India has 'strongly' rejected the criticism of its Kashmir policy by the Organisation of Islamic Cooperation (OIC).
The 47th session of the OIC Council of Foreign Ministers, held at Niamey (Niger), had made a reference to India over its policies on Jammu and Kashmir.
Key Points
47th Session of OIC: A report submitted at the 47th session referred to the situation in Jammu and Kashmir.
It said that the decision of the Indian government to repeal special status (in 2019) was aimed towards changing the demographic and geographic composition of the territory.
The continuous blockade and restrictions together have led to human rights abuses.
The statement acknowledged the support that Pakistan has been providing to keep the Kashmir issue on the agenda of the organization.
India strongly hit out at the OIC, accusing it of making "factually incorrect and unwarranted" references to Jammu and Kashmir in resolutions adopted by the grouping at the session.
India asserted that the union territory is an integral and inalienable part of the country.
India advised the OIC to refrain from making such references in future and said it is regrettable that the grouping continues to allow itself to be used by a certain country "which has an abominable record on religious tolerance, radicalism and persecution of minorities" in a clear reference to Pakistan.
After India revoked special status in Kashmir, Pakistan lobbied with the OIC for their condemnation of the move.
Over the last year, Pakistan has tried to rouse sentiments among the Islamic countries, but only a handful of them, Turkey and Malaysia publicly criticised India.
Saudi Arabia and the UAE, both top leaders among the Muslim countries, were not as critical of India as Pakistan had hoped.
India believes to bust the double standard of OIC, where it supports the agenda of Pakistan in the name of human rights.
India now sees the duality of the OIC unjustifiable, since many of the member countries of the OIC have good bilateral ties and convey to India to ignore OIC statements but sign off on the joint statements which are largely drafted by Pakistan.
India also wants to challenge this issue because of the possibility of the Joe Biden administration in the US which may have a strong view on human rights in Kashmir and may issue statements that may complicate India's image at the global stage.
With India preparing to take over a non-permanent member's seat at the UN Security Council, it wants to use its diplomatic clout and goodwill to bury this issue at the global body in the next two years and bring up the Pakistan-sponsored cross-border terrorism high on agenda.
Organization of Islamic Cooperation
OIC is the second-largest intergovernmental organization after the United Nations with a membership of 57 states.
India is not a member of the OIC.
It is the collective voice of the Muslim world. It endeavors to safeguard and protect the interests of the Muslim world in the spirit of promoting international peace and harmony among various people of the world.
It was established upon a decision of the historical summit which took place in Rabat, Kingdom of Morocco, in 1969.
Headquarters: Jeddah, Saudi Arabia.
3.Farmer protests: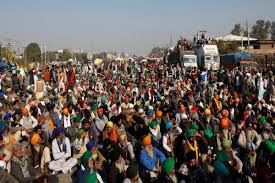 Farmer protests against the three new agriculture-related laws have gathered momentum.
The controversy pertains to:
'Farmers' Produce Trade and Commerce (Promotion and Facilitation) Bill, 2020′
Farmers (Empowerment and Protection) Agreement of Price Assurance and Farm Services Bill, 2020′ and
Essential Commodities (Amendment) Bill 2020.
The Issue:
A set of three laws passed in September aims to deregulate India's enormous agriculture sector.
The government says these laws will "liberate" farmers from the tyranny of middlemen.
But many farmers fear that they stand to lose more than they could gain from the new regulations and that the main beneficiaries will be agricultural corporations with gargantuan financial firepower.
India's new farm laws:
They make it easier for farmers to bypass government-regulated markets (known locally as mandis) and sell products directly to private buyers.
They can now enter into contracts with private companies, a practice known in India as contract farming, and sell across state borders.
The new regulations also allow traders to stockpile food.
This is a shift away from prohibitions against hoarding, which could make it easier for traders to take advantage of rising prices, such as during a pandemic. Such practices were criminal offenses under the old rules.
Concerns of farmers:
More than 86 percent of India's cultivated farmland is controlled by smallholder farmers who own less than two hectares (five acres) of land each.
The new rules remove many of their safeguards. Small farmers fear that they just do not have enough bargaining power to get the kinds of prices they need for a decent standard of living when they negotiate to sell their products to larger companies.
The new laws also do not make written contracts mandatory. So in the case of any violation of their terms, it can be very hard for a farmer to prove that he or she has been aggrieved, giving them little recourse.
The new rules do not guarantee any minimum price for any product, and farmers worry that the existing MSP will be abolished at some point.
The apprehension about MSP and procurement going away comes from Acts being linked to some previous policy documents like the Shanta Kumar Committee report and the CACP reports suggesting reduced procurement and an end to open-ended procurement from states like Punjab to cut down costs of FCI.
It is feared that FCI itself may start procuring directly from the new trade area to cut down buying costs like market fees.
It is more about the changes in the "social contract" between the state's farmers and the Union government that is the root cause of this apprehension.
4.National Maritime Domain Awareness Centre: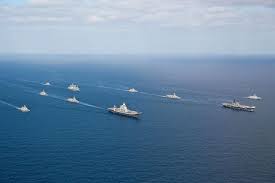 The Navy's Information Management and Analysis Centre (IMAC), the nodal agency for maritime data fusion set up after the 26/11 Mumbai terror attacks, will soon become a National Maritime Domain Awareness (NDMA) Centre.
One of the areas for enhancing coastal security is Maritime Domain Awareness (MDA), which is extremely challenging since India is located in one of the busiest maritime traffic regions of the world.
The Indian Ocean Region (IOR) is the commercial highway for large traffic and critical for the prosperity of many nations.
Hence, threats such as maritime terrorism, piracy, trafficking, illegal fishing etc. are required to be kept subdued at all times.
Maritime Domain Awareness:
It is defined by the International Maritime Organization (IMO) as the effective understanding of anything associated with the maritime domain that could impact the security, safety, economy, or environment.
The maritime domain is defined as all areas and things of, on, under, relating to, adjacent to, or bordering on a sea, ocean, or another navigable waterway, including all maritime-related activities, infrastructure, people, cargo, and vessels and other conveyances.
Earlier this year in March, India joined the Indian Ocean Commission (IOC) as Observer. The Commission is an important regional institution in Western/African Indian Ocean.
Previously in 2018, the Information Fusion Centre – Indian Ocean region (IFC-IOR) was set up within the premises of the IMAC to coordinate with regional countries on maritime security and act as a regional repository of maritime data.
NDMA Centre:
It will be a multi-agency center and provide information to various stakeholders, from the fisheries department to local policing authorities on development or movements across the coast.
This will make sure that any risk, especially transnational can be prevented.
Information Management and Analysis Centre (IMAC):
It is the main center of the Indian Navy for coastal surveillance and monitoring. It is located in Gurugram (Haryana) and became operational in 2014.
It is a joint initiative of Indian Navy, Coast Guard and Bharat Electronics Ltd. and functions under the National Security Adviser (NSA).
It is the nodal center of the National Command Control Communications and Intelligence Network (NC3I Network).
Functions: It tracks vessels on the high seas and gets data from the coastal radars, white shipping agreements, Automatic Identification Systems (AIS) transponders fitted on merchant ships, air and traffic management systems and global shipping databases. Its functions in line with the principles listed under 'Security and Growth of All in the Region (SAGAR)'.
White Shipping Agreement:
The white shipping information refers to an exchange of relevant advance information on the identity and movement of commercial non-military merchant vessels.
Ships are classified into white (commercial ships), grey (military vessels), and black (illegal vessels).
Automatic Identification System: It is an automated tracking system installed on all commercial vessels of specific tonnage.
After the 26/11 terror attack, all fishing vessels more than 20m long were mandated to have AIS transponders installed, while efforts are on to have such a system on under 20m fishing vessels as well.
5.Purchasing Managers' Index (PMI):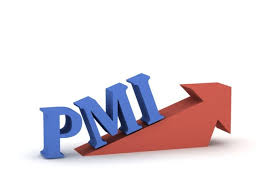 The Purchasing Managers' Index (PMI) for India's manufacturing shows that the sector's expansion, as well as the pace of new orders, slowed down while employment declined further as business optimism faded during the month of November.
PMI is an indicator of business activity in the manufacturing and services sectors.
Key Points
Data Analysis:
India's Purchasing Managers' Index (PMI) fell to a three-month low of 56.3 in November from an over 12-year high of 58.9 in October.
In PMI parlance, a print above 50 means expansion, while a score below that denotes contraction.
Although India's PMI is in the expansion zone, the ongoing rise in Covid cases in some states and uncertainty about regional lockdowns is denting confidence.
There were slower increases in factory orders, exports, buying levels and output.
Indian manufacturers are refraining from hiring. Employment fell in November as companies observed social distancing guidelines.
Calculation of PMI:
It is a survey-based measure that asks the respondents about changes in their perception about key business variables as compared with the previous month.
The purpose of the PMI is to provide information about current and future business conditions to company decision-makers, analysts, and investors.
It is calculated separately for the manufacturing and services sectors and then a composite index is also constructed.
The PMI is a number from 0 to 100.
PMI above 50 represents an expansion when compared to the previous month;
PMI under 50 represents a contraction, and
A reading at 50 indicates no change.
If PMI of the previous month is higher than the PMI of the current month (as is the case mentioned above), it represents that the economy is contracting.
It is usually released at the start of every month. It is, therefore, considered a good leading indicator of economic activity.
PMI is compiled by IHS Markit for more than 40 economies worldwide. IHS Markit is a global leader in information, analytics and solutions for the major industries and markets that drive economies worldwide.
As the official data on industrial output, manufacturing and GDP growth comes much later, PMI helps to make informed decisions at an earlier stage.
It is different from the Index of Industrial Production (IIP), which also gauges the level of activity in the economy.
6.MSP: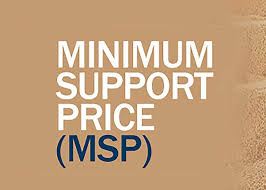 The major demand of the protesting farmers has been that the government guarantee in writing the MSP system, which assures them of a fixed price for their crops, 1.5 times of the cost of production.
The MSP (minimum support price) assures the farmers of a fixed price for their crops.
MSP fixation:
The Commission for Agricultural Costs & Prices (CACP) in the Ministry of Agriculture would recommend MSPs for 23 crops.
The CACP considered various factors while recommending the MSP for a commodity, including cost of cultivation.
It also took into account the supply and demand situation for the commodity; market price trends (domestic and global) and parity vis-à-vis other crops; and implications for consumers (inflation), environment (soil and water use) and terms of trade between agriculture and non-agriculture sectors.
The Budget for 2018-19 announced that MSPs would henceforth be fixed at 1½ times of the production costs for crops as a "pre-determined principle".
Simply put, the CACP's job now was only to estimate production costs for a season and recommend the MSPs by applying the 1.5-times formula.
The CACP's 'Price Policy for Kharif Crops: The Marketing Season 2018-19' report stated that its MSP recommendation was based on 1.5 times the A2+FL costs.
'A2' covers all paid-out costs directly incurred by the farmer in cash and kind on seeds, fertilizers, pesticides, hired labor, leased-in land, fuel, irrigation, etc.
'A2+FL' includes A2 plus an imputed value of unpaid family labor. '
It does not take into account C2 costs.'C2' is a more comprehensive cost that factors in rentals and interest forgone on owned land and fixed capital assets, on top of A2+FL.
Other important current affairs:
1.Attorney-General K.K. Venugopal has given his consent to a law student to initiate contempt of court proceedings against artist Rachita Taneja for her tweets and cartoons.
Venugopal said the tweets and the cartoons that accompanied them were intended "to denigrate the Supreme Court and lower its authority in the eyes of the public".
The prior consent in writing of the Attorney General is required for the Supreme Court to initiate criminal contempt action in a case a/c to the Contempt of Court Act, 1971.
AGI consent is a form of check on the much-debated suo-motu power of criminal contempt.
Attorney General- Facts:

The Attorney General for India is the central government's chief legal advisor, and its primary lawyer in the Supreme Court of India.
He is a part of the Union Executive.
2.A review meeting regarding the progress of Unnat Bharat Abhiyan Scheme (UBA) was held via videoconferencing.
The Union Education Minister emphasized on the following:

Identify three to five core issues common amongst all the villages and few issues based on local conditions and work on these.
Efforts should be made to maximize the number of Higher Educational Institutions under the scheme in order to benefit more villages.
UBA should be used in sensitizing the school teachers regarding National Education Policy, 2020.
Need for a portal was highlighted which will serve as an interactive platform for different institutions wherein they can share success stories and motivate each other.
Carry out a state-wise study and set targets regarding the parameters under UBA such as improvement in literacy, healthcare etc.
3.The Ministry of Tribal Affairs has launched the virtual edition of Aadi Mahotsav – Madhya Pradesh.
The next focus state would be Gujarat, followed by West Bengal.
Aadi Mahotsav: It is a national tribal festival and a joint initiative of the Ministry of Tribal Affairs and the Tribal Cooperative Marketing Development Federation of India (TRIFED).
It commenced in 2017 and is held annually.
It is an attempt to familiarise the people with the rich and diverse craft, culture of the tribal communities across the country, in one place.
In 2019, the festival was held in New Delhi and featured an exhibition-cum-sale of tribal handicrafts, art, paintings, fabric, jewelry, etc.
Virtual Edition of Aadi Mahotsav: This year, TRIFED has moved the event online and will be hosted on the Tribes India E-Marketplace.
It will bring the spotlight on all the major tribes one-by-one.
4.56th 'Raising Day' event of the Border Security Force (BSF) was held on 1st December 2020 in New Delhi.
The BSF was raised in 1965 after the India-Pakistan war.
It is one of the five Central Armed Police Forces of Union of India under the administrative control of the Ministry of Home Affairs (MHA).
Other Central Armed Police Forces are: Assam Rifles (AR), Indo-Tibetan Border Police (ITBP), Central Industrial Security Force (CISF), Central Reserve Police Force (CRPF), National Security Guards (NSG) and Sashastra Seema Bal (SSB).
The 2.65-lakh force is deployed along the Pakistan and Bangladesh borders.
It is deployed on Indo-Pakistan International Border, Indo-Bangladesh International Border, Line of Control (LoC) along with Indian Army and in Anti-Naxal Operations.
It has an air wing, marine wing, an artillery regiment, and commando units.
BSF has been defending Sir Creak in Arabian Sea and Sundarban delta in the Bay of Bengal with its state of the art fleet of Water Crafts.