Today Current Affairs: 6th February 2021  for UPSC IAS exams, State PSC exams, SSC CGL, State SSC, RRB, Railways, Banking Exam & IBPS, etc
Rohini Commission: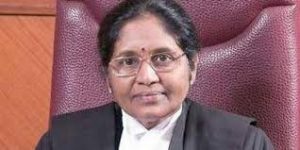 The Centre has extended the tenure of The Commission to Examine Sub-categorisation of Other Backward Classes (OBCs) headed by Justice G Rohini, former Chief Justice of Delhi High Court. The commission now has until July 31 to submit its report.
OBCs are granted 27% reservation in jobs and education under the central government.
In September last year, a Constitution Bench of the Supreme Court reopened the legal debate on sub-categorization of Scheduled Castes and Scheduled Tribes for reservations.
The debate arises out of the perception that only a few affluent communities among the over 2,600 included in the Central List of OBCs have secured a major part of this 27% reservation.
The argument for sub-categorization or creating categories within OBCs for reservation is that it would ensure "equitable distribution" of representation among all OBC communities.
To examine this, the Rohini Commission was constituted on October 2, 2017.
Before the Rohini Commission was set up, the Centre had granted constitutional status to the National Commission for Backward Classes (NCBC).
Registration Of Political Parties: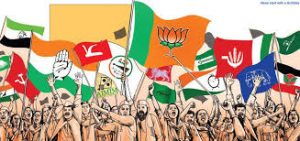 As per Association For Democratic Reforms (ADR)'s latest report:
The contribution reports of only 78 (3.39%) of the total 2,301 registered unrecognized political parties are available in the public domain for 2018-19.
The reports of only 82 such parties (3.56%) for 2017-18 are uploaded on the respective State Chief Electoral Officers' websites.
The number of these parties increased two-fold in the last 10 years, from 1,112 in 2010 to 2,301 in 2019.
Unrecognized political parties:
Either newly registered parties or those which have not secured enough percentage of votes in Assembly or General Elections to become a State party or those which have never contested in elections since being registered are considered unrecognized parties.
Such parties don't enjoy all the benefits extended to the recognized parties.
There are 2,360 political parties registered with the Election Commission of India and 2,301 or 97.50% of them are unrecognized.
Registration of political parties:
Registration of Political parties is governed by the provisions of Section 29A of the Representation of the People Act, 1951.
A party seeking registration under the said Section with the Election Commission has to submit an application to the Commission within a period of 30 days following the date of its formation as per guidelines prescribed by the Election Commission of India in the exercise of the powers conferred by Article 324 of the Commission of India and Section 29A of the Representation of the People Act, 1951.
Pradhan Mantri Fasal Bima Yojana (PMFBY):

To ensure timely settlements of claims under Pradhan Mantri Fasal Bima Yojana (PMFBY), the Directorate General of Civil Aviation (DGCA) has approved the proposal of the department of agriculture for flying drones over 100 districts growing rice and wheat.
This is the first remote sensing technology based largest pilot study in the country so far, conducted for crop yield estimation.
About PMFBY:
Launched in 2016.
Merged schemes include National Agricultural Insurance Scheme (NAIS) and Modified National Agricultural Insurance Scheme (MNAIS).
It aims to reduce the premium burden on farmers and ensure early settlement of crop assurance claim for the full insured sum.
The Scheme covers all Food & Oilseeds crops and Annual Commercial/Horticultural Crops for which past yield data is available and for which requisite number of Crop Cutting Experiments (CCEs) are being conducted under General Crop Estimation Survey (GCES).
PMFBY to PMFBY 2.0:
It has been decided to make enrolment 100% voluntary for all farmers from 2020 Kharif.
The Cabinet has decided to cap the Centre's premium subsidy under these schemes for premium rates up to 30% for unirrigated areas/crops and 25% for irrigated areas/crops.
The government has given the flexibility to states/UTs to implement PMFBY and given them the option to select any number of additional risk covers/features like prevented sowing, localized calamity, mid-season adversity, and post-harvest losses.
In the revamped PMFBY, a provision has been incorporated wherein if states don't release their share before March 31 for the Kharif season and September 30 for rabi, they would not be allowed to participate in the scheme in subsequent seasons.
Direct Access To Its Government Securities Trading Platform: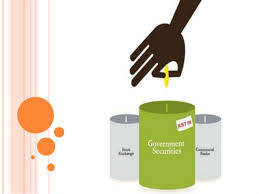 The Reserve Bank of India (RBI) has given small investors direct access to its government securities trading platform.
Now, Retail investors can directly open their gilt accounts with RBI, and trade in government securities.
What is the need for the current proposal, then?
The g-sec market is dominated by institutional investors such as banks, mutual funds, and insurance companies. These entities trade in lot sizes of Rs 5 crore or more.
So, there is no liquidity in the secondary market for small investors who would want to trade in smaller lot sizes. In other words, there is no easy way for them to exit their investments.
Thus, currently, direct g-secs trading is not popular among retail investors.
G- Secs:
Government security (G-Sec) is a tradeable instrument issued by the central government or state governments
It acknowledges the government's debt obligations.
Such securities can be both short term (treasury bills — with original maturities of less than one year) or long term (government bonds or dated securities — with an original maturity of one year or more).
The central government issues both: treasury bills and bonds or dated securities.
State governments issue only bonds or dated securities, which are called state development loans.
Since they are issued by the government, they carry no risk of default, and hence, are called risk-free gilt-edged instruments.
FPIs are allowed to participate in the G-Secs market within the quantitative limits prescribed from time to time.
RBI Monetary Policy 2021: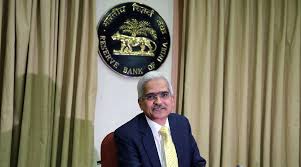 The Reserve Bank of India (RBI) has forecasted that real Gross Domestic Product (GDP), hit by the Covid pandemic in 2020-21, is expected to grow by 10.5% in 2021-22.
RBI had previously introduced a number of measures in its Monetary Policy Report for dealing with the Covid-19 induced economic setback.
GDP Forecast:
The 10.5% real GDP growth in 2021-22 forecasted by RBI will move in the range of 26.2 to 8.3% in the first half and 6% in the third quarter of 2021.
Hit by lockdown and closures of industries, GDP had contracted by 23.9% in the June quarter of 2020-21 and fell by 7.5% in the September quarter of 2020-21.
Real GDP is a measurement of economic output that accounts for the effects of inflation or deflation.
The difference between nominal GDP and real GDP is the adjustment for inflation. Since nominal GDP is calculated using current prices, it does not require any adjustments for inflation.
Unchanged Policy Rates:
The RBI has kept the repo rate under the Liquidity Adjustment Facility (LAF) unchanged at 4%.
The reverse repo rate under the LAF remains unchanged at 3.35% and the Marginal Standing Facility (MSF) rate and the Bank Rate at 4.25%.
Three New Fighter Jets: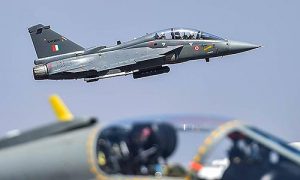 According to the Ministry of Defence, three new fighter jets will be flying by 2026, of which two will be for the Air Force and one for the Navy.
This includes a new LCA (the Mk-2 version) and AMCA (Advanced Medium Combat Aircraft) for the Air Force and the TEDBF (Twin-Engine Deck-Based Fighter) for the Navy.
Earlier, the Cabinet Committee on Security (CCS) had cleared a deal worth Rs. 48,000 crore for the acquisition of 83 Tejas Light Combat Aircraft (Mk-1A and Mk-1 versions) for the Indian Air Force.
Light Combat Aircraft (LCA) Mk-2:
It is a 4.5 generation aircraft that will be used by the Indian Air Force.
It is a replacement for the Mirage 2000 class of aircraft.
It has got a bigger engine and can carry 6.5 tonnes of payload.
The technology is already developed in Light Combat Aircraft (LCA).
AMCA (Advanced Medium Combat Aircraft):
It is a fifth-generation aircraft. And will be used by the Indian Air Force.
It is a stealth aircraft, i.e. designed for stealth and unlike the LCA, which is designed for maneuverability.
It has a unique shape to achieve low radar cross-section and has got internal carriage of weapons.
When the external weapons are removed, this aircraft has enough fuel and weapons inside to do a very capable operational role in stealth mode.
It will have a range from over 1,000 km up to 3,000 km in different modes.
Twin-Engine Deck-Based Fighter (TEDBF):
This fighter will be manufactured for the Navy.
It will replace the Navy's MiG-29K.
It will be the first twin-engine aircraft project in India that too for dedicated carrier-based operations.
It will operate from the INS Vikramaditya and the upcoming indigenous aircraft carrier.
World's First Energy Island In The North Sea: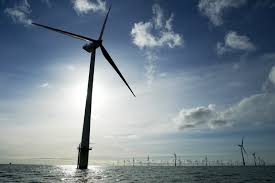 Denmark has approved a plan to build the world's first energy island in the North Sea.
The artificial island, in its initial phase, will be the size of 18 football fields.
It will be linked to hundreds of offshore wind turbines and will supply both powers to households and green hydrogen for use in shipping, aviation, industry, and heavy transport.
The island will produce and store enough green energy to cover the electricity needs of three million European households.
Parivar Pehchan Patra (PPP) Scheme: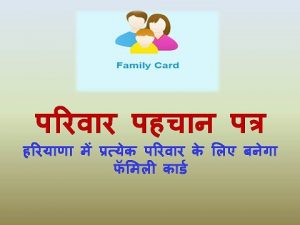 There has been a privacy concern with respect to Haryana's Parivar Pehchan Patra (PPP) Scheme.
Although enrollment under the scheme is voluntary, the precondition of linking it to get the benefit of many essential services has raised serious concerns about the scheme.
Current Issue:
Although the enrollment under the PPP is voluntary, but in case a citizen or a family wishes to apply for a service delivered by the Haryana government, the PPP ID would be required, which leaves very little choice before the residents.
In the absence of privacy laws in India, or any indication of data protection Standard Operating Procedures being followed for this exercise, there is a strong possibility of potential abuse of the data collected under the PPP.
Moreover, a lot of data that is being sought is well above and beyond what is required for the delivery of a particular service.
Parivar Pehchan Patra (PPP) Scheme:
The PPP scheme was formally launched in July 2019 to achieve the Haryana government's vision for 'paperless' and 'faceless' delivery of schemes, services, and benefits offered by the state government.
Under this, each family is considered a single unit and gets an 8-digit unique identification number, called family ID.
Family IDs are also linked to independent schemes like scholarships, subsidies, and pensions, so as to ensure consistency and reliability.
It also enables the automatic selection of beneficiaries of various schemes, subsidies, and pensions.
Unified Portal of Gobardhan: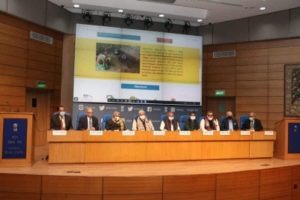 A Unified Portal of Gobardhan has been launched to ensure smooth implementation of Biogas schemes/initiatives and their real-time tracking.
Objectives: Ensure close coordination with various Departments/Ministries for smooth implementation of Biogas schemes/initiatives and their real-time tracking.
Coordinated by: The Department of Drinking Water and Sanitation under the Swachh Bharat Mission – Grameen (SBMG).
Benefits:
Economy: Strengthen the rural economy through a convergent approach for various Biogas projects/models and initiatives.
ODF Plus Goals: The ODF Plus goals (solid waste management in villages, along with the collection and transportation of biodegradable and non-biodegradable waste) outlined in Phase 2 of SBMG will depend on the performance of the Gobardhan scheme to a great extent.
The portal will further help in achieving the objectives of SATAT (Sustainable Alternative towards Affordable Transportation) aimed at setting up Compressed Biogas (CBG) production plants and ensuring market linkage for use of biofuel in automotive fuels.
Rural India generates enormous quantities of bio-waste which can be efficiently utilized and lead to a better environment and public health.
Bio-waste processing especially cattle dung into Biogas & organic manure leads to the generation of opportunities for employment and household savings.
Guidelines For Floating Structures: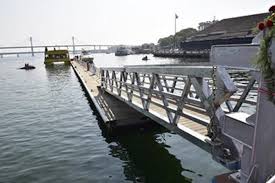 Ministry of Ports, Shipping, and Waterways have issued the guidelines for floating structures with a vision to set up world-class floating infrastructure all along the coastline in the upcoming projects.
The guidelines set out technical aspects for implementation of Floating Jetties or Platforms for Marinas, Minor Harbors, Fishing Harbours or Fish landing centers, Waterdomes and such other similar facilities in coastal areas, estuaries, waterways, rivers, and reservoirs.
These guidelines may also be suitably utilised for floating pontoons or platforms in various waterborne systems and floating wave attenuators or breakwaters for Minor Harbors or Fish Landing facilities.
Significance:
Floating structure because of its inherent advantages is an attractive solution and it is being promoted by the Ministry of Ports, Shipping, and Waterways.
The benefits of floating jetties or structures over the conventional quay and fixed concrete structures include its cost-effectiveness, faster implementation, easily expandable and re-locatable, and have minimal environmental impacts.
The 1st meeting of the Joint Working Group in the field of Renewable Energy between India and the Kingdom of Bahrain: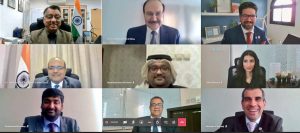 It was held in a virtual format.
An MoU between India and Bahrain was signed in 2018 for promoting bilateral cooperation in the field of Renewable Energy.
Both sides agreed to forge deeper engagement in capacity building and focused cooperation between concerned agencies as well as the private sector of the two countries in this sector, particularly in the field of solar, wind, and clean hydrogen
Bahrain is a sovereign state in the Persian Gulf.
The island nation comprises a small archipelago made up of 40 natural islands and an additional 51 artificial islands, centered around Bahrain Island which makes up around 83 percent of the country's landmass.
The country is situated between the Qatari peninsula and the northeastern coast of Saudi Arabia, to which it is connected by the 25-kilometer King Fahd Causeway.
The capital and largest city are Manama.