Lateral Entry: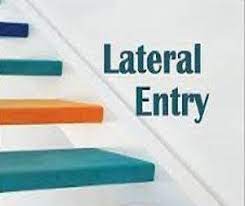 The recent recommendation of 31 candidates by the Union Public Service Commission (UPSC) to be inducted into senior and mid-level positions in various union ministries is the second such attempt towards bringing specialists from private sector in the senior and middle level of bureaucracy.
Earlier too, nine lateral entrants from private sector were inducted in 2019.
Experts have warned about the procedure of recruitment.
They say, meritocracy demands that the recruitment procedure of selecting professionals should stand the test of merit through a fair and transparent procedure.
The fair selection and appointment of civil servants is the foundation of modern merit-based bureaucracy.
Therefore, any deviation from the established procedure must also fulfil the conditions of fair procedure of recruitment.
To be constitutionally correct and to increase the legitimacy of the move, the recruitment procedure of induction of lateral candidates should be initiated in the parliament.
A comprehensive legislative process will not only help usher in clarity over various aspects of lateral entry recruitment but also legitimise the process and provide it with the endorsement of wider political forces.