11th Meeting Of The India-Mongolia Joint Working Group: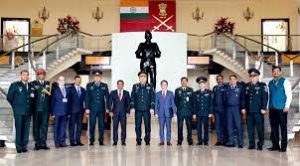 The 11th meeting of the India-Mongolia Joint Working Group was held in India.
While acknowledging the growing ties between both the countries, they expressed satisfaction at the ongoing defense cooperation despite the limitations imposed by Covid-19 pandemic.
India and Mongolia have interacted through Buddhism throughout history.
Mongolia regards India as its "third" neighbor along with US, Japan, and Germany and a "spiritual neighbour".
India established diplomatic relations with Mongolia in 1955 and it was the first country outside the Soviet bloc to open diplomatic relations with Mongolia.
The Indian Resident Mission in Ulaanbaatar was opened in 1971.
This relationship was upgraded to "strategic partnership" in 2015 when the Indian Prime Minister visited Mongolia and declared it as an essential component of 'Act East Policy'
Mongolia has publicly reiterated its support for India's membership to the permanent seat of the expanded United Nations Security Council (UNSC).
India has played an important role in getting Mongolia membership to key international forums, including the United Nations (UN), despite strong opposition from China and Taiwan.
India also championed the inclusion of Mongolia in the Non-Aligned Movement.
In a reciprocal gesture, Mongolia co-sponsored a 1972 UN resolution with India and Bhutan for the recognition of the newly liberated Bangladesh.
In 2022, an India-built oil refinery at the cost of more than USD 1 billion and with a capacity of 1.5 million metric tonnes was opened near Sainshand in southern Dornogovi province of Mongolia.
This refinery will take care of 75 % of Mongolia's oil refining needs
India – Mongolia bilateral trade was USD 35.3 million in 2020, down from USD 38.3 million in 2019.
The India-Mongolian Agreement on Cultural Cooperation, signed in 1961, has governed the Cultural Exchange Programme (CEP) between the two countries.
The Agreement envisages co-operation in the fields of education by way of scholarships, exchange of experts, participation in conferences, etc.
Joint defence exercises code-named Nomadic Elephant.
India is also an active participant in an annual week-long joint training exercise called the Khaan Quest, hosted by Mongolia.
Cooperation over Environmental Issues: Part of the Bishkek Declaration (snow leopard).