7th India-Canada Joint JSTCC Meeting: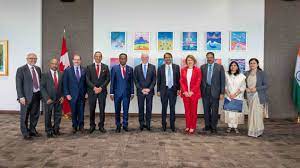 Two memorandums of understanding (MoUs) were renewed at the 7th India-Canada Joint Science and Technology Cooperation Committee (JSTCC) meeting.
The MoUs were signed by the Indian Ministry of Science and Technology with the Natural Sciences and Engineering Research Council of Canada (NSERC) and National Research Council Canada (NRC), respectively, under the 2005 Agreement for Scientific and Technological Cooperation.
Earlier, India and Canada held the fifth Ministerial Dialogue on Trade & Investment (MDTI), where Ministers agreed to formally re-launch the negotiations for India-Canada Comprehensive Economic Partnership Agreement (CEPA) and consider an Interim Agreement or Early Progress Trade Agreement (EPTA) that could bring early commercial gains to both the countries.
Highlights of the Meeting:
The focus areas of the collaboration include national missions, quantum computing, artificial intelligence (AI), and cyber-physical systems, among others.
A large number of Indian students studying in Canadian universities will benefit from the collboration.
India and Canada benefit from strong bilateral relations and are committed to deepening ties, with science, technology, and innovation being key pillars of the relationship.
Under the terms of the agreement made in 2005, the JSTCC meets every two years to review ongoing collaborations between Canadian and Indian researchers and set priorities for the next period in fields like agriculture and food security, healthcare and healthtech, clean technologies and environmental research, marine and polar research, quantum tech and AI, and human capacity development and researcher mobility.
Both countries agreed to continue monitoring progress on key priorities in bilateral science, technology, and innovation projects (STIP) during the 2022-2024 period.
India plays an active role in the global technology research and development ecosystem by facilitating academic and scientific relationships with other countries.