125th Anniversary Celebrations Of Sri Ramakrishna Math: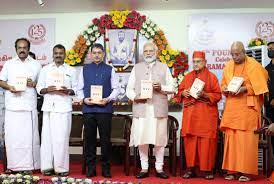 The Prime Minister of India participated in the 125th Anniversary celebrations of Sri Ramakrishna Math at Vivekananda House in Chennai, Tamil Nadu.
Ramakrishna Movement was initiated by Swami Vivekananda to spread the universal message of Vedanta in the light of Sri Ramakrishna Paramhamsa. He was a teacher of swami Vivekanand
The main motto of this initiative is to work for the alleviating of the poor and the downtrodden with the motto 'for one's liberation and the good of the world'.
With this aim, Swami Vivekananda founded the Ramakrishna Math and Ramakrishna Mission.
The Ramakrishna Mission was formed in May 1897 with aims purely spiritual and humanitarian.
Vedanta is one of the world's most ancient spiritual philosophies and one of its broadest, based on the Vedas, the sacred scriptures of India.