1,300 Year Old Buddhist Stupa : ASI Discovery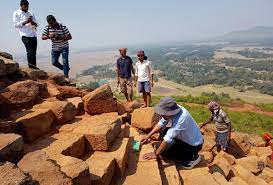 The Archaeological Survey of India (ASI) discovered a 1,300-year-old stupa right in the middle of a mining site in Odisha's Jajpur district at a Khondalite mining site.
It is the place from where Khondalite stones were supplied for the beautification project around the 12th Century Shree Jagannath Temple in Puri.
The stupa could be 4.5-metre tall and initial assessment showed it may belong to the 7th or 8th century.
It was found at Parabhadi which is situated near Lalitagiri, a major Buddhist complex, having a large number of stupas and monasteries.
Lalitgiri Buddhist site is believed to be the most sacred among the three sites (Lalitagiri, Ratnagiri and Udayagiri) as it unearthed a massive stupa where a relic of Buddha was discovered inside a stone casket.
Khondalite is a type of metamorphic rock that is found in the Eastern Ghats region of India, particularly in the state of Odisha.
It is named after the Khondalite Group of rocks, which is believed to have formed around 1.6 billion years ago during the Proterozoic era.
Khondalite is primarily composed of feldspar, quartz, and mica, and has a distinct pinkish-grey coloration. It is commonly used as a decorative stone in construction and is particularly prized for its durability and resistance to weathering.
Khondalite stones were widely used in ancient temple complexes.
Stupas:
They were burial mounds prevalent in India from the vedic period.
Architecture: Stupas consist of a cylindrical drum with a circular anda and a harmika and a chhatra on the top.