International Year Of Millets 2023: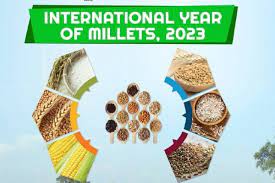 India has shared the vision to make International Year of Millets 2023 a 'People's Movement' alongside positioning India as the 'Global Hub for Millets'.
India's proposal to observe an International Year of Millets in 2023 was approved by the Food and Agriculture Organisation (FAO) in 2018 and the United Nations General Assembly has declared the year 2023 as the International Year of Millets.
This was adopted by a United Nations Resolution for which India took the lead and was supported by over 70 nations.
Objectives:

Awareness of the contribution of millet to Food Security and nutrition.
Inspire stakeholders to improve sustainable production and quality of millets.
Focus on enhanced investment in research and development and extension services to achieve the other two aims.
Millet:
Millet is a collective term referring to a number of small-seeded annual grasses that are cultivated as grain crops, primarily on marginal lands in dry areas in temperate, subtropical and tropical regions.
Some of the common millets available in India are Ragi (Finger millet), Jowar (Sorghum), Sama (Little millet), Bajra (Pearl millet), and Variga (Proso millet).