14th Petersberg Dialogue On Climate Change: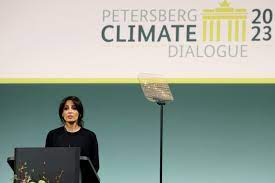 The Petersberg Dialogue on Climate Change was held in Berlin.
The 14th Petersberg Dialogue on Climate Change was hosted by Germany and the United Arab Emirates.
UAE would be hosting the 28th Conference of Parties (COP28) to the United Nations Framework Convention on Climate Change.
Objective is to discuss the way forward towards COP28
United Nations Secretary-General António Guterres emphasised the need for "cleaning up economies of the developed countries by breaking their fossil fuel addiction and driving decarbonisation in every sector to achieve a 1.5-degree global warming pathway.
He reiterated his earlier call for an Acceleration Agenda, where "all countries hit fast-forward on their Net Zero deadlines
.Discussions around a potential global target for renewables at the next climate conference.
Possibility of an agreement on a global target for renewables and energy efficiency among the G7 countries.
It was stated that developed countries are "on a good track" to deliver the $100 billion per year as promised to mobilise by 2020 during the COP15 in 2009
2023 is the year for the Global Stocktake.
Global Stocktake: a periodic review of global climate action.
It aims to assess whether current efforts will enable us to reach the objectives set out in the Paris Agreement.
This is the first Global Stocktake year since the Paris Agreement was signed in 2015.
The report is set to be released in September of 2023.