Supreme Audit Institutions (SAls) Of G20 countries: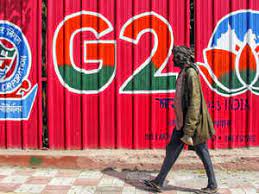 The Comptroller & Auditor General of India (CAG) will chair SAI20 – the Engagement Group for Supreme Audit Institutions (SAls) of G20 countries in Goa.
The SAI20 Engagement Group of G20 was established in 2022 during Indonesia's Presidency of the G20.
The constitution of SAI20 stems from a recognition of the role of SAIs in –

Promoting the efficiency, accountability, and transparency of public administration, and supporting SDG implementation.
Promoting intergenerational equity and addressing climate change concerns.

Two priorities for SAI20 deliberations: Blue economy and responsible Artificial Intelligence (AI).
The global annual value of the blue/ocean economy is ~$2.5 trillion.
About 90% of global trade by volume [75% by value] is carried out through sea routes.
Preparation of technology-driven tools to assess authorised development in coastal stretches and track marine water quality.