2023 Water Conference: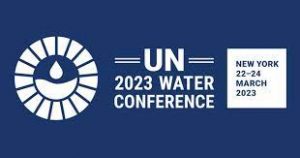 In the United Nations, the 2023 Water Conference was held in New York on March 22-24 in which participant members were informed about W12+ Blueprint and its potential.
W12+ Blueprint is a UNESCO platform that hosts city profiles and case studies of programs, technologies, and policies that address common water security challenges.
It is an informational database for solutions to urban water challenges.
Aim is to create a tool that provides insight into how to address common urban water challenges through easy-to-read case studies.
Lessons learned from the other W12+ Programs will be incorporated and highlighted within the Blueprint.
It will house information on best practices, encourage further knowledge exchange, and become a "virtual Hub" for urban water security solutions globally.
Cities listed under this blueprint from India are Chennai, Bengaluru, Mumbai and Pune.
The water conference brings together people from different countries and organizations to work together on solving global water challenges.
Water problems are usually local, but by working together, countries can learn from each other, share technology, and invest in solutions.
The UN 2023 Water Conference's theme, "Our watershed moment: uniting the world for water," aimed to support the achievement of water-related global goals and objectives, including those enumerated in the 2030 Agenda for Sustainable Development.