Avalanche Hit Sikkim's Nathu La: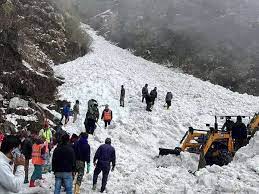 A massive Avalanche hit Sikkim's Nathu La.
An avalanche is a sudden, rapid flow of snow, ice, and debris down a mountain or slope.
It can be triggered by various factors such as heavy snowfall, rapid temperature changes, or human activity.
Many regions that are prone to avalanches have specialized teams that monitor and control avalanche risks by using various methods such as explosives, snow barriers, and other safety measures.
Types:

Rock Avalanches (which consist of large segments of shattered rock),
Ice Avalanches (which typically occur in the vicinity of a glacier),
Debris Avalanches (which contain a variety of unconsolidated materials, such as loose stones and soil).
Nathu La (Pass)-Nathu La:
It is a mountain pass in the Himalayas in the East Sikkim district.
It connects the Indian state of Sikkim with China's Tibet Autonomous Region.