Sixth Edition Of The India-Germany Inter-Governmental Consultations: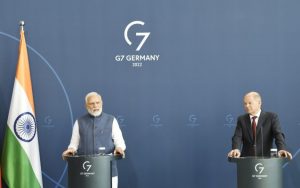 Prime Minister Narendra Modi and German Chancellor Olaf Scholz today co-chaired the sixth edition of the India-Germany Inter-Governmental Consultations-IGC in Berlin
The biennial IGC is a unique dialogue format that also sees participation of several Ministers from both sides.
This was the Prime Minister's first IGC with Chancellor Scholz and also the first such Government-to-Government consultations of the new German Government, which assumed office in December last year.
PM Modi expressed happiness that his first foregn visit this year was to Germany.
He informed that Germany has committed to support Green Goal Plans of India. German Chancellor Olaf Scholz invited Prime Minister Modi for G-7 summit to be held in Germany.
Prime Minister Modi and Chancellor Scholz signed the Joint Declaration of Intent establishing the Green and Sustainable Development Partnership.
This Partnership envisages a whole-of-government approach to India-Germany cooperation on SDGs and climate action, under which Germany has agreed to make an advance commitment of 10 billion Euros of new and additional development assistance until 2030.
This JDI will also create a Ministerial mechanism within the framework of the IGC to provide high-level coordination and political direction to the Partnership.
A number of agreements were concluded during the Ministerial bilateral meetings.