PRASAD Project : Srisailam In Andhra Pradesh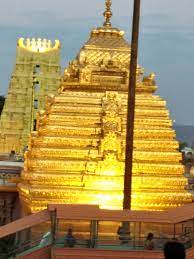 President of India Droupadi Murmu inaugurated the 'PRASAD' project at the tourism facilitation centre in the pilgrim town of Srisailam in Andhra Pradesh
About Srisailam temple:
Hindu temple dedicated to the deity Shiva and goddess Parvathi.
It is referred to as one of the twelve Jyotirlingas of Lord Shiva and one of the 18 Maha Shakti Peethas of the Goddess, Parvati
Here Parvati is worshipped as "Mallika" and Shiva is worshipped as "Arjuna", represented by the lingam
There is inscriptional evidence from the Satavahana dynasty which places the temple to be existent from the 2nd century
Most modern additions were done during the time of king Harihara I of the Vijayanagara Empire.
The presiding deity of the place is Brahmaramba Mallikarjuna Swamy in natural stone formations in the shape of Lingam
PRASAD scheme is 'Pilgrimage Rejuvenation And Spiritual Augmentation Drive'.
This scheme focuses on developing and identifying pilgrimage sites across India for enriching the religious tourism experience.
It aims to integrate pilgrimage destinations in a prioritized, planned, and sustainable manner to provide a complete religious tourism experience.
The growth of domestic tourism hugely depends on pilgrimage tourism.