242nd Corps Of Engineers Day: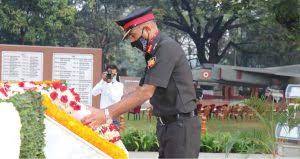 Indian Army celebrated the 242nd Corps of Engineers Day on November 18, 2022.
The Corps of Engineers provides combat engineering support, develops infrastructure for armed forces and other defence organisations and maintains connectivity along our vast borders besides providing succour to populace during natural disasters.
These tasks are executed through four pillars of the Corps – Combat Engineers, Military Engineer Service, Border Road Organisation and Military Survey.
The Corps of Engineers has three groups, i.e. Madras Sappers, Bengal Sappers and Bombay Sappers which were amalgamated into the Corps on 18 Nov 1932.