Certified Jute Seed Distribution Plan: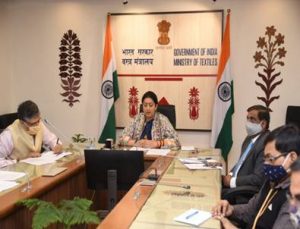 The Ministry of Textiles has launched a Certified Jute Seed Distribution Plan under Jute ICARE Program.
Jute Corporation of India (JCI) had in 2019, signed an MoU (Memorandum of Understanding) with National Seeds Corporation for commercial distribution of 1,000 Metric Tonne certified jute seeds for the year 2021-22.
Certified Jute Seed Distribution Plan:
It will expand usage of certified seeds to over 55% area under Jute Cultivation.
A certified seed shall be the progeny of foundation seed and its products shall be so handled as to maintain specific genetic identity and purity according to the standards prescribed for the crop being certified.
It will extend the benefit of certified seeds to nearly 5 lakh farmers.
Usage of certified jute seeds has resulted in improved quality of jute by 1 grade and enhanced productivity by 15% thereby increasing income of jute farmers by about Rs. 10,000/hectare.
Jute ICARE Program:
Launch: Improved Cultivation and Advanced Retting Exercise for Jute (Jute ICARE) was launched in 2015.
The program was initiated by the National Jute Board (NJB) in association with Central Research Institute for Research in Jute and Allied Fibres (CRIJAF) & Jute Corporation of India (JCI).
Aims: At mechanization in jute farming in a farmer-friendly way and accelerated retting using microbial consortium for improved income for jute farmers.
Following Inputs are Provided:

100% Certified Seeds at a subsidized rate.
Demonstration of scientific jute cultivation practices for adoption at farmers' fields with mechanical intervention distribution of seed drill / Nail Weeder/Cycle Weeder.
Demonstration of Microbial retting using CRIJAF SONA, a microbial consortium and also distribution to the farmers.
Retting is the process of extracting fiber from the stem of the plants.
So far, Government has supported 2.60 lakhs farmers under ICARE Program.