24th Meeting Of Financial Stability And Development Council (FSDC).: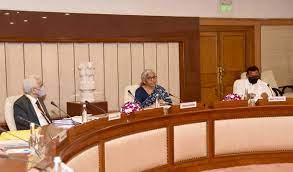 The 24th meeting deliberated on various mandates of the FSDC such as financial stability, financial sector development, inter-regulatory coordination, financial literacy, financial inclusion, and macro prudential supervision of the economy including the functioning of large financial conglomerates.
The council also discussed issues relating to
Management of stressed assets,
strengthening institutional mechanism for financial stability analysis,
framework for resolution of financial institutions and issues related to IBC,
data sharing mechanisms of government authorities,
internationalisation of the Indian rupee and
pension sector related issues.
About Financial Stability and Development Council (FSDC):
Financial Stability and Development Council (FSDC) was set up by the Government as the apex level forum in December 2010.
The Chairman of the Council is the Union Finance Minister and its members include

The heads of financial sector Regulators (RBI, SEBI, PFRDA, IRDA & FMC)
Finance Secretary and/or Secretary, Department of Economic Affairs,
Secretary, Department of Financial Services, and
Chief Economic Adviser.