26th Meeting Of The Financial Stability And Development Council: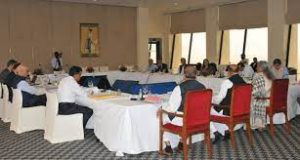 The Union Minister of Finance and Corporate Affairs chaired the 26th Meeting of the Financial Stability and Development Council (FSDC).
Key Highlights:
The council stressed on the early warning indicators for the economy and the preparedness to deal with them, improving the efficiency of the existing financial and credit information systems, and issues of governance and management in systemically important financial institutions.
It was noted that there is a need to monitor the financial sector risks, the financial conditions and market developments on a continuous basis by the Government and the regulators so that appropriate and timely action can be taken so as to mitigate any vulnerability and strengthen financial stability.
The council took note of the preparation in respect of financial sector issues to be taken up during India's G20 Presidency in 2023.
FSDC:
It is a non-statutory apex council under the Ministry of Finance constituted by the Executive Order in 2010.
The Raghuram Rajan committee (2008) on financial sector reforms first proposed the creation of FSDC.
It is chaired by the Finance Minister and its members include the heads of all Financial Sector Regulators (RBI, SEBI, PFRDA & IRDA), Finance Secretary, Secretary of Department of Economic Affairs (DEA), Secretary of Department of Financial Services (DFS), and Chief Economic Adviser.
In 2018, the government reconstituted FSDC to include the Minister of State responsible for the Department of Economic Affairs (DEA), Secretary of Department of Electronics and Information Technology, Chairperson of the Insolvency and Bankruptcy Board of India (IBBI) and the Revenue Secretary.
FSDC sub-committee is headed by the Governor of RBI.
The Council can invite experts to its meeting if required.