25 Years Of Good Friday Agreement: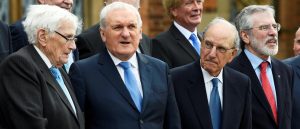 American President ,Joe Biden visited Belfast to mark 25 years of Good Friday Agreement.
The Good Friday Agreement, also known as the Belfast Agreement is a historic peace agreement that ended the sectarian violence in Northern Ireland.
It was was signed on April 10, 1998.
It was signed between factions of Northern Ireland, and the governments of Britain and Ireland.
Objective is to end decades of violence in Northern Ireland among those who wished to remain with the United Kingdom (UK) and those who wanted to join Ireland.
The negotiators included then-British Prime Minister Tony Blair, then-Irish Prime Minister Bertie Ahern, George Mitchell, a former Democratic senator who acted as the envoy of then-US President Bill Clinton, and eight parties from Northern Ireland.
The aim of the agreement was to establish a power-sharing government.
The Good Friday Agreement was put to a referendum on May 22, 1998.
It gained the approval of 94% of voters in Ireland and 71% in Northern Ireland.