President's Colour Award : INS Dronacharya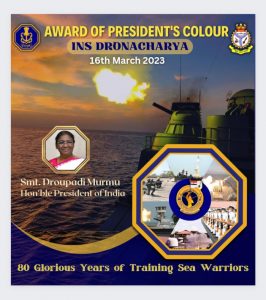 The President of India presented the President's Colour to INS Dronacharya in Kochi
INS Dronacharya is the gunnery school of the Indian Navy. It is located in Kochi, Kerala. It is responsible for training 820 officers and 2100 ratings per year in small-arms, naval missiles, artillery, radar and defensive countermeasures
President's Colour Award is a prestigious honour, awarded by the President to armed forces or a police unit that has rendered exceptional service to the nation.
The award serves as a recognition of the sacrifices made by police personnel in the line of duty, and as a tribute to their unwavering commitment to serving and protecting its people.