Amazonia-1: ISRO'S First Satellite For The Year 2021: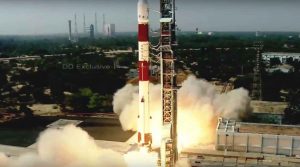 The Indian Space Research Organisation (ISRO), in its first mission of 2021, has successfully launched the Brazilian satellite Amazonia-1 on Sunday from Satish Dhawan Space Centre (SDSC) SHAR, Sriharikota in Andhra Pradesh. "#PSLVC51 lifts off successfully from Satish Dhawan Space Centre, Sriharikota
The 637-kg Amazonia-1, which is the first Brazilian satellite to be launched from India, is the optical earth observation satellite of the National Institute for Space Research (INPE).
This satellite would further strengthen the existing structure by providing remote sensing data to users for monitoring deforestation in the Amazon region and analysis of diversified agriculture across the Brazilian territory, PSLV-C51 rocket is the 53rd mission of Polar Satellite Launch Vehicle (PSLV).
The satellite in the first move launched the Amazonia-1 satellite of Brazil as the primary satellite.