Yuva Utsav India @2047: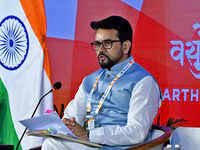 The Youth Affairs Ministry has organized an event called 'Yuva Utsav India @2047' in all districts of India. The event will be held from March to June 2023, and it will have three levels.
The first level of the 'Yuva Utsav India @2047 will be a one-day district-level programme.
It will take place in 150 districts from the 4th to 31st of March 2023.
The aim of this event is to celebrate the power of youth in India and encourage young people to actively participate in the development of the country.
The pan-India event is being organized in several places- Pratapgarh in UP, Dhar and Hoshangabad in MP, Hanumangarh in Rajasthan, Saraikela in Jharkhand, Jalgaon in Maharashtra, Karimnagar in Telangana and Palakkad in Kerala.
It is organized in a 3-tier format.
The 1st phase is organized by schools and colleges.