Tribals Peace Agreement: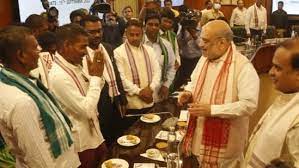 A tripartite peace agreement was signed between Centre, Assam Government and eight tribal groups of Assam in the presence of Union Home Minister Amit Shah in New Delhi.
The agreement was signed to end decade old crisis of tribal groups and tea garden workers in Assam.
The tribal groups which have signed the agreement include, Birsa Commando Force, Adivasi People's Army, All Adivasi National Liberation Army, Adivasi Cobra Military of Assam and Santhal Tiger Force.
The agreement will prove to be another milestone in the direction of making North East region extremism free by 2025.
Shah said, several agreements have been signed to ensure peace and development in the North Eastern region in the last three years.
He said, NLFT agreement in 2019, BRU-REANG and Bodo accord in 2020, Karbi Anglong agreement in 2021 and Assam-Meghalaya inter-state boundary agreement this year has resolved around 65 per cent of border disputes.