4th Edition Of ISA Steel Conclave 2023: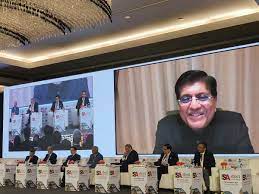 The 4th edition of 'ISA Steel Conclave 2023' was held, nudging Steel Firms to ramp up their capacities so that India's output of the critical infrastructure input doubles to 300 million tonnes a year by 2030.
The event was marked by discussions on the theme, 'Steel Shaping The Sustainable Future,' underscoring the multifaceted role of the steel industry in India's growth and development.
India is the world's second-largest producer of crude steel, with an output of 125.32 million tonnes (MT) of crude steel and 121.29 MT of finished steel production in FY23.
The steel industry in India has experienced substantial growth in the past decade, with a 75% increase in production since 2008.
The per-capita consumption of steel in India stood at 86.7 kilograms in FY23.
The Indian steel industry has been driven by the availability of raw materials, such as iron ore, and cost-effective labor.
As per the National Steel policy, launched in 2017, India projects crude steel capacity of 300 million tonnes (MT), production of 255 MT and a robust finished steel per capita consumption of 158 Kgs by 2030-31.