Goa Maritime Conclave 2023: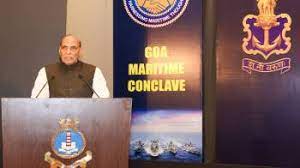 The 4th edition of Goa Maritime Conclave (GMC) – 2023 has been held by the Indian Navy under the aegis of Naval War College, Goa.
The conclave was attended by delegates from twelve Indian Ocean nations, including Comoros, Bangladesh, Indonesia, Madagascar, Malaysia, Maldives, Mauritius, Myanmar, Seychelles, Singapore, Sri Lanka, and Thailand.
Theme 2023: Theme 2023: "Maritime Security in the Indian Ocean Region: Converting Common Maritime Priorities into Collaborative Mitigating Frameworks".
Highlights of Goa Maritime Conclave:
The GMC is a high-level gathering of naval and defense officials from various Indian Ocean Region (IOR) nations to discuss common maritime challenges and enhance regional cooperation.
It is the Indian Navy's outreach Initiative providing a multinational platform to harness the collective wisdom of practitioners of maritime security and the academia towards garnering outcome oriented maritime thought.
It provides a forum for exchange of views by the Chiefs of Navy/ Heads of Maritime Agencies on dealing with contemporary and future maritime challenges, as well as presenting cooperative strategies for enhancing interoperability amongst partner maritime agencies.
During the Conclave Defence Minister of India referred to the concept of "Prisoner's Dilemma" to underscore the need for countries to collaborate with each other instead of working at cross purposes.
The concept of the Prisoner's Dilemma, when applied in the domain of international relations, can explain and analyze various situations where countries face strategic decision-making challenges.
The Indian Defense Minister stressed the need for multinational collaborative mitigation frameworks in the IOR to address common maritime challenges.
He emphasized the importance of self-reliance in the defense sector to enhance regional security and prosperity.
Also emhasized that a free, open and rule-based maritime order is a priority for all of us.'Might is right' has no place in such a maritime order. Adherence to international maritime laws, as enunciated in the United Nations Convention on the Law of the Sea (UNCLOS) 1982, must be our lodestar.