50% Of Rural Households Covered Under The Jal Jeevan Mission: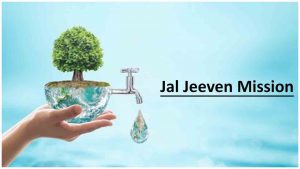 50% of rural households in India have now been covered under the Jal Jeevan Mission.
At the time of launch of Jal Jeevan Mission in 2019, only 3.23 Crore households i.e. 17% of the rural population had access to drinking water through taps.
Certain state and union territories such as Goa, Telangana, A&N Islands, D&N Haveli and Daman & Diu, Puducherry and Haryana have already achieved 100% household connections.
Punjab, Gujarat, Himachal Pradesh and Bihar have coverage of more than 90% and are progressing fast towards attaining the status of 'Har Ghar Jal (water in every household)'.
JJM envisages supply of 55 litres of water per person per day to every rural household through Functional Household Tap Connections (FHTC) by 2024.
It is under the Ministry of Jal Shakti.
It was launched in 2019.
The Mission is based on a community approach to water and includes extensive Information, Education and Communication as a key component of the mission.
JJM looks to create a jan andolan for water, thereby making it everyone's priority.
The fund sharing pattern between the Centre and states is 90:10 for Himalayan and North-Eastern States, 50:50 for other states, and 100% for Union Territories.