Heli-Borne Survey For Water Management: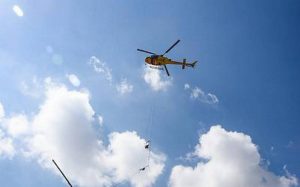 The Ministry of Jal Shakti has launched a Heli-Borne Survey Technology for water management in the arid areas of Rajasthan.
Developed by Council of Scientific and Industrial Research (CSIR)-National Geophysical Research Institute (NGRI), it will provide information about level, quantity, quality and information of ground water.
The NGRI is a geoscientific research organization established in 1961 under the CSIR.
The Heli-borne geophysical mapping technique of CSIR-NGRI provides a high-resolution 3D image of the subsurface up to a depth of 500 metres below the ground.
The main advantages of the Heliborne geophysical survey is that it is fast, highly data dense, precise and economical.
This survey will be carried out in two phases, of which the first phase comprises an area spanning 1 lakh sq km.
This includes 65,000 sq km in Rajasthan, 32,000 sq km in Gujarat and 2,500 sq km in Haryana.
It is to be implemented in collaboration with the Ministry of Jal Shakti as a part of National Aquifer Mapping Project.
Larger areas can be covered to derive more accurate data to help utilize groundwater for drinking purposes.
It will help in water conservation, identification of new places for ground water recharging and that too at lesser cost than the prevalent ones like digging tube wells using geophysics and remote sensing techniques.
It will help in devising new schemes for improvement in water level in water scant areas.