50 Years of India Bangladesh Relations: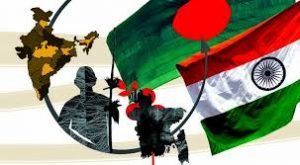 Commemorating 50 years of the 1971 India-Pakistan war that led to the liberation of Bangladesh, a 122-member contingent of the Bangladesh Armed Forces has recently participated in the 72nd Republic Day parade.
This year, India and Bangladesh are also celebrating 50 years of the establishment of their ties.
This is the third time the Republic Day parade in India has witnessed the participation of a military contingent from abroad.
Previously French troops marched in 2016 and UAE troops in 2017.
Bangladesh War of Independence: Vijay Diwas is observed on 16th December every year to mark India's victory over Pakistan in the 1971 war.
The Government of India, on 3rd December 1971, declared that it would go for war with Pakistan to save Bengali Muslims and Hindus.
This war was fought between India and Pakistan for 13 days.
On 16th December 1971, the chief of the Pakistani forces with 93,000 soldiers had surrendered unconditionally to the allied forces consisting of the Indian Army and Mukti Bahini in Dhaka.
Mukti Bahini refers to the armed organizations that fought against the Pakistan Army during the Bangladesh Liberation War.
It was a guerrilla resistance movement.
Bangladesh was born on this day. Hence, Bangladesh celebrates its independence day (Bijoy Dibos) on 16th December every year.