Cyclone Asani: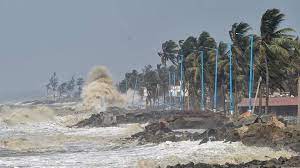 The cyclone seems to be carrying thunderstorms for the eastern coast of India which includes West Bengal, Odisha, etc.
Meteorologists have predicted that the cyclone will move towards the north.
The name of the cyclone has been given by Sri Lanka and "Ashani" translates to "Wrath" in the Sinhala language.
The sea surface humidity, as well as temperature, is related to the development of cyclones, hence, the Bay of Bengal acts as a good location for the formation of cyclones as this region receives more rainfall along with slow breezes that keep the temperature reasonably warm all year. The warm air currents help in cyclone development as it raises the temperature of the surface.
The names and lists of cyclones are maintained by the World Meteorological Organisation's (WMO) international council.
They also update this list of names.
In the original list, only female names were added. In 1979, male names were added to be used for the naming of cyclones.
The naming lists are used alternatively. In a rotating fashion, six different lists are being utilized to name the cyclones.