India-Bangladesh Commercial Railway Link: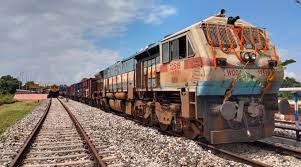 Bangladesh and India started regular operation of freight trains through the restored Haldibari-Chilahati rail route after over 50 years, which will strengthen railway connectivity and bilateral trade between the two countries.
The Haldibari-Chilahati rail link is one such route that was operational till 1965.
Another rail link, between Agartala-Akhaura, is scheduled to open by the end of 2021.
After the Partition in 1947, seven rail links were operational between India and Bangladesh (then East Pakistan) until 1965.
Presently, there are Five rail links between Bangladesh and India that are operational.
They are Petrapole (India)-Benapole (Bangladesh), Gede (India)-Darshana (Bangladesh), Singhabad (India)-Rohanpur (Bangladesh), Radhikapur (India)-Birol (Bangladesh), Haldibari (India)-Chilahati (Bangladesh).