Belarus: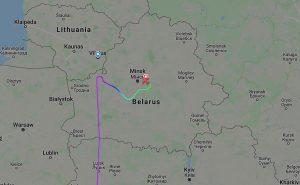 The authoritarian President Alexander Lukashenko of Belarus sparked international outrage after his regime forced a commercial airline flying from Greece to Lithuania to land in its territory allegedly on the pretext of a bomb scare, so it could arrest a dissident journalist on board.
The journalist, Roman Protasevich, is a prominent opponent of Lukashenko and had been living in exile in neighbouring Lithuania since fleeing his home country in 2019. Protasevich, 26, is the co-founder of the NEXTA media outlet on the social media platform Telegram.
In November 2020, he was charged in Belarus with inciting public disorder and social hatred. The regime has also put his name on a list of terrorists, and if convicted, he could face the death penalty.
Opposition leaders have denounced the incident as an act of terrorism by the state and infuriated Western leaders are discussing possible consequences for Belarus.
Belarus is a landlocked country in Eastern Europe.
It is bordered by Russia to the east and northeast, Ukraine to the south, Poland to the west, and Lithuania and Latvia to the northwest.
Minsk is the capital and largest city.
In the aftermath of the Russian Revolution in 1917, Byelorussian SSR became a founding constituent republic of the Soviet Union in 1922. During the dissolution of the Soviet Union, Belarus declared independence in 1991. In 2000, Belarus and Russia signed a treaty for greater cooperation, forming the Union State.
It has shown no aspirations for joining the European Union.
Alexander Lukashenko was elected Belarus's first president in the country's first and only free election post-independence, serving as president ever since.