6th Indian Ocean Conference: Theme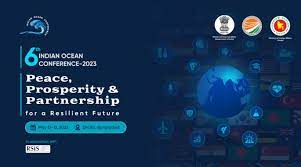 Bangladesh will host the 6th Indian Ocean Conference (IOC) scheduled to be held between May 12-13 in Dhaka.
It will discuss aspects strengthening cooperation between the countries of the Indian Ocean region.
The 6th edition of the Conference is being organised by India Foundation in association with the Ministry of Foreign Affairs, Bangladesh and S. Rajaratnam School of International Studies.
Theme: "Peace, Prosperity and Partnership for a Resilient Future"
The Conference endeavours to bring critical states and principal maritime partners of the region together on a common platform to deliberate upon the prospects of regional cooperation for Security And Growth for All in the Region (SAGAR).
The first edition of the Conference was held in Singapore in 2016.